11 April 2014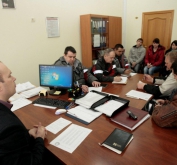 PJSC "Ilyich Iron and Steel Works of Mariupol" continues to create job places for young specialists. This year, the Personnel department invited 23 college graduates of Priazovskii State Technical University of Mariupol for an interview. 8 graduates were provided with job placement in various production facilities of the plant.
Mr. Igor Safronov, chief of the Personnel Department:
- We stand face to face before requirements of the current labor market and our goal is to select the best young specialists hunger for their progress and growth. Currently, our demands to the applicants are rather severe. The job candidates were interviewed by the members of the commission. They were asked questions on their specialty and their academic average was also taken into account. The students hobby, if any, was also considered – for example, we appreciated, if a student attended radio engineering or radio electronic sessions.
The commission decided that the work places for the graduates could be provided at the Bureau of Automation, the rolling plate mill "1700", the converter shop, the blast furnace shop and the cold rolling mill. According to mr. Igor Safronov, the Personnel department already received a positive feedback from the facilities: the newcomers confirmed their good knowledge when re-examined at site.
"I know that Ilyich Iron and Steel Works is a large, stabile industrial company where I always wished to work at. Of course, I was a little bit anxious before the interview, because I was seeking for the very first workplace in my life. But everything was okey and I have got a job at the converter shop. I have already had a conversation with the chief of the converter shop, the deputy chief and the foreman. I hope that I will work there as an electrician, besides this work status corresponds to my specialty," – Sergii Shala, a graduate of the Priazovskii State Technical University college said.
Vladislav Kozlov, another graduate was proposed even two appointments and now he can join either the team of the Bureau of Automation or the personnel of the Blast Furnace Shop. However, the young man's intention is to work at the shop where the production process is taking place. "I would like to be closer to the production process because it seems more interesting to me. I hope I would be proposed to work as an adjuster or a mechanic. I was a straight A student at the college. My plan is to get a workplace at the steel plant, then I would like to became a student of a correspondent college and advance my skill simultaneously. May be, in future, I will promote to position of a foreman or a chief", – Vladislav said.
A one year probation will be arranged for all graduates and each of them will be provided with a tutor by whom all professional ins and outs will be revealed to the young people.
Mr. Yurii Zinchenko, General Director of PJSC "Ilyich Iron and Steel Works":
- Today, our youth possesses ambitions and it is great! The young people are active and ambitious. Educated, competent professionals – such people are in great demand with our company. We understand that young people is our future. Therefore, despite difficult current economic circumstances our company still continues its policy of employment assistance to young graduates, providing them with their first work places.
For editors:

PJSC "Ilyich Iron and Steel Works of Mariupol" is one of the greatest enterprises in Ukraine with full metallurgical cycle. The Works produces pipes and flat rolled products of carbon, low-alloy and alloy steels for different applications: hot-rolled plates and sheets intended for the production of pipes for main pipelines, ships, pressure vessels, bridge constructions, other metal constructions for critical application; hot-rolled plates, sheets and strips including pickled; cold-rolled, including galvanized, bands, sheets and strips, including for cold stamping, flooring and others.

METINVEST is an international vertical-integrated mining-and-metallurgical Group of companies, which runs assets in every link of production chain for creation of value from iron-ore and coal mining tol semi-finished and finished metal products manufacture. The structure of the Group comprises mining and metallurgical enterprises in Ukraine, Europe and USA, and sales network covering the key world markets. METINVEST GROUP consists of Metallurgical and Mining Divisions. According to the strategical vision of the Group its aim is to become lead European vertical-integrated steel producer with stable ratio of growth and cost effectiveness in spite of market cyclicity, and to ensure investment return higher than industrial standards. In a period of the nine months before 30th of September 2013 the Group has received US$9,8 milliards of sale proceeds, cost effectiveness by EBITDA was 18%.

The main shareholders of METINVEST B.V. company (Holding company of METINVEST GROUP) are SСM GROUP (71,25%) and SMART GROUP (23,75%), which control Group at partnership relations.

METINVEST HOLDING LLC is the managing company of METINVEST GROUP.