2 June 2020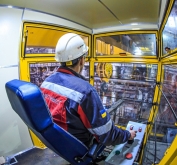 During quarantine, Metinvest Group's steel plants in Mariupol completed 21 major overhauls of industrial equipment and mastered production of 16 new types of steel products. Investments in equipment modernization totalled UAH 331 million.
During the quarantine period, Azovstal Iron and Steel Works carried out major overhauls of 16 major production units. The power and mechanical equipment of Basic Oxygen Furnaces No. 1 and No. 2 was repaired. Blast Furnace Shop completely overhauled BF No. 4 with the re-equipment of its bins, replacement of valves and track length assemblies, overhaul of its air stoves and pulverized coal injection device. The overhaul of air stoves of Blast Furnaces No. 2 and No. 3 was also carried out.
Heavy Plate Shop upgraded the ultrasonic diagnostics of metal products and Flame Cutter No. 3. Oxygen Shop repaired the pipeline, cleaned heat exchange equipment, and overhauled the valves of the air separation unit. Repair of Coke Oven Batteries No. 1 and No. 3 continued. The amount of investment in the restoration of the design parameters of equipment totalled UAH 126 million.
"Despite quarantine measures, we continue to carry out scheduled repairs of industrial equipment. Timely overhauls of equipment allow avoiding equipment downtimes and delays in the execution of orders. This is the key to our stable operation," said Enver Tskitishvili, General Director of Azovstal.
At the same time, five major overhauls of the main and auxiliary production equipment have been completed at Ilyich Iron and Steel Works of Mariupol (Ilyich Steel). Total investments in overhauls totalled UAH 205 million. Sintering machine No. 4 was modernized at the sinter plant, the fan, the traction chain were replaced and the automation system was upgraded. Blast Furnace Shop installed a new top charging system on BF No. 4, restored the charge feed supply equipment, and performed shotcreting. Basic Oxygen Furnace No. 2 was brought to its design parameters by repairing the hood roof, slag tunnel shields, and working platform, as well as by replacing the vessel mouth armour and cooling stack components. Oxygen Shop laid 55 meters of a new condensate pipeline, and carried out an overhaul of cryogenic and condensate pumps.
"The plant continues to carry out quarantine measures, providing workers with personal protective equipment and disinfecting premises and vehicles. We are grateful to our employees for their responsibility to this situation and for observing all the recommendations of the Ministry of Health on preventing the spread of coronavirus. And at the same time, they continue to work daily, developing production and developing new types of products," said Taras Shevchenko, General Director of Ilyich Iron and Steel Works of Mariupol.
Also, Mariupol production facilities, even during quarantine, developed and commenced the production of new types of steel products for eight countries of the world. For example, Azovstal, taking into account the requirements of customers, makes 11 new types of products at its Heavy Plate Mill and two more in the BOF Shop. In order to fulfil orders, technologies were developed for the production of new steel grades, TMCP rolling, and the chemical compositions of existing steel grades were adjusted to meet customer requirements. Two new steel grades of the sixth category, which are used in construction and undergo mechanical strength tests at minus 40° C, have been mastered by 3000 Mill at Ilyich Iron and Steel Works of Mariupol. A trial order for S420MC steel grade used in mechanical engineering according to the European standard was also fulfilled with increased thickness accuracy of rolling.