15 January 2020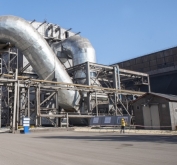 Metinvest Group modernizes its production capacities at Ilyich Steel and Azovstal. The environmental projects in which 82.6 million US dollars were invested in 2019 remain our priority.
Last year, Ilyich Steel completed the reconstruction of a gas cleaning system at Basic-Oxygen Furnace # 3. The gas cleaning systems at Blast Furnace # 3 casthouse and stockhouse are being reconstructed. The construction of a dedusting system is still in progress at the mixer area. The largest project of this year, namely the sinter plant reconstruction is in its final stage.
"Metinvest Group gives priority to environmental projects. We bring our production facilities with the highest levels of emissions into compliance with international standards," says general director of Ilyich Steel Taras Shevchenko.
Several environmental projects have been also implemented at Azovstal. The reconstructed dedusting system has been commissioned for a ferroalloy crusher; a new dedusting system has been erected at the hot metal desulphurization area, where ID fans are now connected and commissioning works are in progress. The dedusting system for Ladle-Furnaces # 1 and # 2 has been reconstructed too. Even now, the new gas cleaning and dedusting systems help bring down the dust content in emissions downstream of bag houses to levels not higher than 20 mg/m3. The construction of a dedusting system is in full swing at the mixer area of the BOF shop.
A recirculation cooling water pumping station was built to supply cooling water to BF # 3 as part of the large-scale reconstruction of the furnace. It will help cool down the blast furnace without using seawater, thus making a BF process more environmentally friendly.
In 2019, two blast furnaces were shut down: BF # 5 was decommissioned and BF # 6 was shut down for a major overhaul. Blast furnaces are upgraded as part of the Technological Strategy 2030 that includes a number of environmental activities. A major overhaul of Blast Furnace # 6 will make it possible to improve its efficiency, decrease the cost of production, and reduce dust emissions by 55%. After equipping BF # 6 with a pulverized coal injection plant, all Azovstal's blast furnaces will be complete with PCI technology.
"As part of production equipment modernization, our steel plant pays a special attention to environmental activities, investing in them millions of dollars each year," emphasized Enver Tskitishvili, general director of Azovstal.