27 August 2019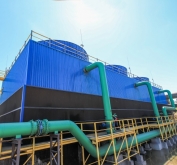 MMKI has commissioned two new energy efficient cooling towers. They are designed to supply cooled water to the 1700 hot strip mill (HSM), Oxygen Shop and Cold Rolling Shop. CapEx totalled UAH 55.1 million.
One of the new cooling towers supplies cooled water to 1700 HSM and Cold Rolling Shop. Its capacity is 4,200 of cubic meters of water per hour cooled to +25°С. The cooling tower is fully automated, by design it allows changing the mode of operation in real time and cool water to required temperatures. The second cooling tower supplies water to the Oxygen Shop. Capacity of this unit is 8,000 of cooled water per hour. The cooling tower is equipped with precision and modern equipment. It is fully automated, and on a hottest day, it is capable of bringing the water temperature to +28°С.
The first cooling tower was designed and built within five months by Turkish companies Cenk and Dalgakiran. The second cooling tower was developed and designed by YWCT (Israel). It was constructed by the official representative of YWCT in Ukraine.
Following the commissioning of two new cooling towers, the replenishment supply of water from the Kalmius River to the recirculation water supply system of 1700 HSM, Cold Rolling Shop and Oxygen Shop went down by three times.
Taras Shevchenko, General Director of Ilyich Iron and Steel Works of Mariupol:
"We are constantly working on improving energy efficiency and environmental friendliness of our enterprise. We are using a comprehensive approach to saving natural resources by using advanced technologies. For example, the new equipment of modern ventilation cooling tower allows our steel mill to more efficiently and economically use expensive resources, as well as improve the environmental situation in the city."