16 August 2019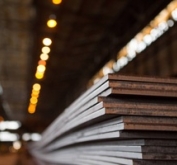 Employees of Azovstal Iron and Steel Works and Ilyich Iron and Steel Works of Mariupol (MMKI) do not fear challenging orders and are always willing to improve steel products pursuant to customer requirements. Just in the first six months, the enterprises introduced 27 new types of steel products.
Azovstal's heavy plate mill accounts for all new products in the first six months of the year. Custom-made products with increased requirements properties and tests are among those products. The production of 10G2FBYu pipe plate with thickness of 10 to 50 mm has begun, with additional requirements for non-metallic inclusions and mechanical properties. The main area of its application is production of super duty large-diameter pipes. In accordance with the new requirements, plate made of structural steel grades, rolled products for shipbuilding and the machine-building industry are also manufactured. Another of the unusual orders for the steel mill was the production of steel grades 10KHSND and 15KHSND, which are used in the construction and production of road and mining equipment.
"Our steel works keeps up to date - production is being modernized and new types of products are being developed. Customer focus is one of our corporate values. Therefore, when our customers have new needs for rolled steel, we consider the request: We analyse the request, assess the opportunities and risks, develop an individual technology for each order and control all stages of production. Thus, we ensure new orders, and become more competitive," – noted Enver Tskitishvili, General Director of Azovstal.
MMKI also expands the product range adapting to customer requirements in various countries of the world. Thus, production of cold rolled coils of HC260LA grade in new thickness of 0.6 mm for the market of Poland. Production of continuous cast slabs with a nominal cross-section of 170x900-1550 mm and 250x900-1550 mm for Italy, Great Britain, Indonesia, Turkey, and Thailand was launched. Heavy plates from 3000 Mill with increased to 9.4 tonnes weight are shipped to Romania, Saudi Arabia, Iraq, Poland, UAE, and Spain.
"Our professionals are willing to take on the most challenging orders and adapt products to new market requirements. This allows not only ensuring capacity utilization of the enterprise, but also increasing sales volumes and expanding the international market," - emphasized Taras Shevchenko, General Director of Ilyich Iron and Steel Works of Mariupol.
Metinvest Group's steel works will continue developing new types of steel products in the second half of the year. Already, the work is underway on orders for the domestic market. For example, MMKI completed the development of production technology to make galvanized steel from rolled steel grade S350GD according to EN 10346 with thickness 2.0 mm, while Azovstal work on heavy plates with steel grade S420NL and complex impact strength requirements.