1 August 2019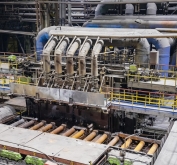 Heating furnace No. 4 at 3000 Heavy Plate Mill (3000 Mill) at Metinvest Group's Ilyich Iron and Steel Works of Mariupol was shut down for a major overhaul. The works are progressing under the large-scale production modernization project at Mariupol Assets of the Company. As a result of UAH 10.5 million worth major overhaul, energy efficiency of the equipment will meet the best world standards.
Major overhaul of heating furnace No. 4 of 3000 Mill of Ilyich Iron and Steel Works of Mariupol will minimize heat losses and improve energy efficiency to the level of the best European practices. The overhaul commenced in the beginning of June. The investments planned for the upgrade of this equipment will comprise approximately UAH 10.5 million.
Hinges, defective sections of the furnace casing, brickwork of sidewalls in zones Nos. 2-7 and roof of zone No. 5, steel structures and brickwork of the discharge end wall, as well as end gates and shock-free discharge slab tables will be replaced within 105 days; piping for bottom beams and bottom brickwork will be partially replaced.
The insulation of furnace bottom beam is the key feature of the major overhaul. This time, traditional insulation will be replaced with the concrete one made of modern insulation materials. Heat loss through the furnace roof, walls and bottom beam will be minimized through the application of modern refractory materials. This will improve the energy efficiency of the unit to the level of the best international standards.
"Our enterprise, Ilyich and Steel Works of Mariupol, is changing quite noticeably. We are improving; we are applying new technologies in order to meet the international standards of energy efficiency. We have started replacing the traditional insulation in the heating furnaces. According to the new practice, double layer insulation with an outer layer made of heat resistant concrete produces the best results. This kind of insulation lasts for 2-3 years and heat loss decreases by several times", - noted Taras Shevchenko, General Director of Ilyich and Steel Works of Mariupol.