16 July 2019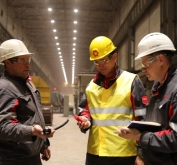 Energy saving lighting is great from all aspects: it does no harm to the employee's health and contributes to economic health of the operations. The BOF shop and the 1700 Hot Strip Mill at Ilyich Steel of Metinvest Group modernized the overhead lighting system. They installed 2,269 LED luminaires to save up to 80% of electricity.
Equipment supply and erection processes in the above shops started in March, and final acceptance of both sites took place in June. A new energy saving lighting system was installed by DTEK ESCO as part of the memorandum on cooperation with Metinvest Group.
Specialist software Dialux was used for lighting design and calculation. The appropriate light level of 200 lux was selected for production sites. The number and capacity of luminaires were calculated based the fact that in several years of operation their light level will slightly decrease to 180 lux.
540 LED luminaires supplied by the word's leading manufacturer were installed in the BOF shop. They helped increase the light level in the shop tree times. 1,729 luminaires of similar type were installed in the 1700 HSM. Furthermore, an autonomous generator was installed in the motor room of the 1700 HSM. In case of power outage, it will automatically switch on lighting in this important area.
Utility specialists of Ilyich Steel highlight that the replacement of the lighting system makes it possible to reduce electricity consumption by more than 80% in these shops, and DTEK ESCO will receive return on investment purely from a portion of funds saved by Ilyich Steel.
General Director of Ilyich Iron and Steel Works of Mariupol Taras Shevchenko,
"Energy saving is top priority for successful business and competitive production. It is part of economical and environmental strategy. The energy saving program was developed by the enterprise and is now in progress for efficient promotion of this point. We upgrade production processes and implement energy saving technologies. In particular, we modernize a lighting system at the production sites to help the enterprise not only achieve cost savings but create safer and more comfortable work environment for our employees."
Director of DTEK ESCO Sergey Chulkov,
"We have already implemented three projects at Ilyich Steel (two projects regarding a lighting system and one project aimed at replacing gas burners at the sinter plant), investing a total of UAH 73 million. Ilyich Steel's experience shows that energy efficiency can be improved and production can be modernized using investor's funds – an energy service company that finances a project, executes it on a turn key basis and guarantees energy saving. Through joint efforts, we contribute to energy independence of Ukraine."