9 July 2019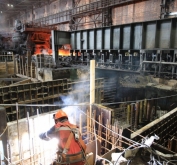 A large investment project on the reconstruction of 1700 plate rolling mill (1700 HSM) is ongoing at Metinvest Group's Ilyich Iron and Steel Works of Mariupol. The final batch of main mechanical equipment weighing over 900 tonnes arrived to the enterprise. Total investments made by Metinvest Group comprised USD 85 million.
Among the equipment supplied are a coilbox, roller tables, hydraulic descalers, mill stand housings, main motors and gearboxes. Large component parts will be installed in working position with the help of special powerful hydraulic cylinders. About 45 days are planned for the installation of the reversing stand, coilbox and upgrading of the finishing group. Then the commissioning and hot tests of new equipment will be carried out.
During the reconstruction, five stands of the mill will be dismantled. They are going to be replaced by one more powerful - reversing stand. A new stand will be equipped with an automated rolling process control system to produce a high-quality feed stock for the finishing mill group. In addition, an coilbox and new high-pressure (about 202 bar) hydraulic descaler will be installed.
The main task of the coilbox is to provide the possibility of rolling heavy rolls. When coiling and uncoiling the strip on this equipment, the temperature is equalized along the entire length of the process workpiece, and the temperature wedge disappears. As a result, uniform breakdown is achieved in the finishing mill group, the strip rolling accuracy is improved in the longitudinal and transverse directions, and the stability of the mechanical properties and microstructure throughout its length is ensured.
We would like to remind that the first stage of 1700 HSM reconstruction completed in 2018, and included commissioning of reheat furnace No. 1 and the installation of a heavy duty pneumatic downcoiler. Due to this, the steel works mastered the production of hot-rolled coils weighing up to 16.5 tonnes, hot-rolled pickled coils without a weld of up to 15 tonnes, and cold rolled coils without a weld of 14-14.5 tonnes.
"New equipment will expand the production capacity of the mill and increase the weight of finished products to 30 tonnes. We will be able to meet the most stringent customer requirements for surface quality, strip geometry, improve the quality of our own cold-rolled coils and expand the product mix. The operators of 1700 HSM will have the technical ability to roll slabs with a thickness of 250 mm in a specific size range already produced by our new high-tech continuous casting machine No. 4. This project is important for the future development of the enterprise and improving the competitiveness of our products in the global market", said Taras Shevchenko, General Director of Ilyich Iron and Steel Works of Mariupol.