10 May 2019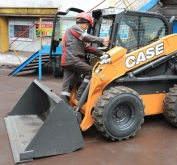 CASE SV250 skid steer loader worth more than UAH 1.1 million was put into operation in the Gas Shop at Ilyich Steel of Metinvest Group. New machinery will support efficient operation of cleaning equipment in the Blast Furnace Shop.
The loader is compact, highly manoeuvrable and can be used in extremely restricted spaces. There are plans to use such machinery in the vicinity of gas cleaning scrubbers in the Blast Furnace Shop.
The skid steer loader is complete with forks and a bucket. The bucket will be used to remove sludge from sedimentation tanks or other places, where it is hard to get using a full-size machine. The forks will be used to handle and place tanks filled with reagents for chemical treatment of recirculative water for the Blast Furnace gas cleaning systems.
Taras Shevchenko, General Director of Ilyich Steel,
"We upgrade not only production capacities but equipment that serves them. We have technological and production tasks to accomplish so have extremely important tasks aiming to improve environmental situation both on the production site and in the city. And we implement them consistently."