22 February 2019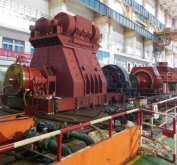 The electric motors will be installed in 1700 hot strip mill (HSM). Mill revamp will allow to extend the markets for hot-rolled coils due to better quality and larger weight. Metinvest Group will invest UAH 2.4 billion in total in the revamp of the workshop.
Primetals Technologies Austria became the supplier of the modern technology so crucial for the revamp of 1700 HSM. Based on the engineering developed by the Austrian specialists, Metinvest Engineering is delivering the project on a 'turn key" basis as the general contractor, designer and equipment supplier.
The electric motors are designed specially for 1700 HSM revamp by Shanghai Machinery Company to the order of Metinvest Engineering. Each motor has 7 MW capacity and weighs 150 tons.
Construction and erection works are already in progress in 1700 HSM of MMKI. A unique method is used to carry out the work in conditions of on-going operations under the operating line of the rolling mill. This became possible due to an unusual technology, where special structures were installed on the rolling mill that support the roller table during the construction of foundations for the new reversing mill stand and the coilbox. A major overhaul of the shop is scheduled for August, and the commissioning of the revamped mill will start in October.
"New equipment will allow to use one reversing mill stand instead of five old roughing mill stands. That means an opportunity to produce heavier hot rolled coils. Currently, the weight of one coil is from 8 to 13 tons, and it will be increased 3.5 times to 27 tons and even 32 tons in the future", says the general director of MMKI Taras Shevchenko.
The equipment was delivered to the site disassembled in the vacuum package comprising the total of over sixty equipment items. It was transported from Odessa sea port by 16 long base trucks including four platforms for the transportation of off-size cargo.