10 January 2019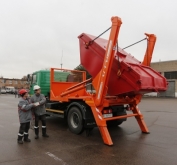 MMKI purchased special machinery for its Continuous Caster No. 4 construction project. A new skip-lift on the basis of MAZ platform is designed for sealed transportation of BOF dust waste. The investments amounted to approximately UAH 1.6 mln.
To enhance the functionality, special machinery has been equipped with a hydraulic lifting mechanism and has three removable containers with airtight hatches for collection of BOF dust. This allows for safe, clean and loss-free dust removal. Being a component of the sinter burden, the collected dust is further processed at the sinter plant in accordance with environmental regulations.
Two drivers will operate the skip-lift. Additional training in operation of hoisting equipment will be provided to the operators. Master-classes by trainers of the manufacturer will be organized for them.
It is planned that the new special machinery will not only service the new Continuous Caster No. 4, but also other areas of the BOF Shop.
Taras Shevchenko, the General Director of MMKI:
"Continuous Caster No. 4 Construction Project was thoroughly designed. Every detail is important for us. During the preparation, we have analysed all modern options and technical solutions, and selected leading manufacturers of industrial equipment and gas cleaning plants. The project progress is on track. We do everything possible to make air cleaner in Mariupol, and make our industrial sites the examples of clean steel making."