26 February 2018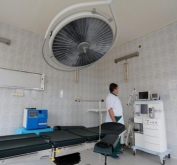 On February 22, Members of Parliment Oleh Lyashko and Valeriya Zaruzhko together with Mariupol City Mayor Vadym Boychenko and General Director of Ilyich Iron & Steel Works of Mariupol Taras Shevchenko visited the renovated Urology Center and Center for Orthopedics and Traumatology of the City Hospital #1. This is a joint project of Ilyich Iron & Steel Works of Mariupol, Metinvest Group and Mariupol City Council on Health Care development. UAH 6.5 million were invested by the metallurgists into major overhaul of premises and replacement of pipelines in the Department of Urology. Modern special medical equipment for performance of complex operations as well as furniture and bed sets were purchased for UAH 14.5 million at the expense of local budget.
Department of Urology of Mariupol City Hospital #1 has capacity to admit up to 50 people at a time. New equipment now allows performing operations which before were possible to have only in Kyiv and EU countries. The staff includes nine doctors, five of them are of superior expert category. A complex of repair and construction works in the operating unit, technical and sanitary facilities, 13 wards, corridors and lunch room was completed due to the support of the city and metallurgists. The total cost of the project including purchase of the equipment amounted about UAH 30 mln.
In total in 2017 Ilyich Iron & Steel Works and Azovstal Steel Works allocated almost UAH 12 mln. for implementation of joint projects in the Health Care sector with the City Council and Mariupol Development Fund. Compared to the previous year social investments by metallurgists in this sector increased almost twice.
In addition Azostal continues reconstruction of the City hospital #4. In the children's infectious disease department, floors, window and door blocks, wiring and electrical equipment, heating and air conditioning, sewerage, water supply and ventilation systems are being replaced. Oxygen and compressed air are supplied to the intensive therapy units. All the wards, offices and facade will be repaired and rearranged. Ilyich Iron and Steel Works of Mariupol provides nine Health Care institutions with oxygen which is necessary for emergency care and resuscitation.
MP of Ukraine Oleg Lyashko:
- We have established constructive cooperation with state and regional structures, business and international donors on the development of social infrastructure. For example, we purchase modern equipment at the cost of local budget for the hospitals renovated by the metallurgical enterprises. This format allows us to modernize health care sector more actively. Due to this, Mariupol is increasingly ahead of other Ukrainian cities.
Taras Shevchenko, the General Director of MMKI:
- Health Care System development is one of the key criteria of citizens' well-being, and thus a guarantee of successful development of Mariupol. Similar to the last year, the plant together with Mariupol Development Fund invests in infrastructure development and support of Health Care sector. Metallurgical plants have significantly increased investments in this sphere taking into account the requests of the local authority.