23 August 2017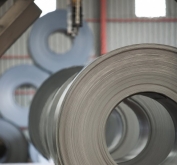 Metinvest Group's Ilyich Iron and Steel Works of Mariupol signed a contract with Primetals Technologies Austria GmbH for the development of Basic Engineering for the reconstruction of 1700 hot strip mill (HSM). Metinvest's investments in the project will total $85.5 million.
The project provides for the installation of new equipment that will increase hot strip mill capacity, significantly improve the quality of steel surface and considerably reduce the process waste during slab production. The mill will also extend its portfolio with coils that are of demand for downstream processing.
The process control automation system will also be modernized along with key assemblies of the finishing mill stands. A new reversing mill stand will allow to increase coil weight to 27 tons, with a potential to produce 32 t coils in the future.
The main process equipment for Ilyich Steel will be supplied by Metinvest Engineering. Besides the development of Basic and Detail Engineering, the Austrian specialists will also supply part of equipment and provide project supervision.
According to the plan, the supply of equipment will begin in the fall this year, and the construction work will be started in late 2018. The modernized hot strip mill is expected to be commissioned before 2020.
Yuriy Ryzhenkov, Chief Executive Officer of Metinvest Group:
- Global steel market is changing, and we are changing along with it. Our strategy envisages development of flat products, including coils for various downstream applications. With revamped facilities at Ilyich Steel we will be able to stay competitive in the segment of high value-added products as a result of improved efficiency of our operations, short time for product processing, safe transportation and convenient logistics.
Yuriy Zinchenko, general director of Ilyich Iron & Steel Works of Mariupol:
- We already have positive experience of delivering large-scale projects with Austrian business partners. Since late last year, we've been constructing one of the top-notch continuous casting machines in Europe with Primetals. This project is directly related to the reconstruction of our rolling facilities. The re-rolling of slabs of the premium segment on the modernized 1700 mill will allow to increase the presence of Ukrainian products in the external markets. Therefore, it's important that rolled steel with Made in Ukraine marking meets world's best quality standards.
Robert Reisetbauer, vice-president of Primetals Technologies Austria GmbH:
- Our company manufactures equipment that covers the entire process route - from processing of raw materials to manufacture of finished goods. We have a long history of cooperation. Even at difficult times when there were no large projects, we (together with Metinvest) developed technologies in Mariupol, worked on engineering and continued our cooperation addressing challenging technical issues.
Hermine Poppeller, Ambassador Extraordinary and Plenipotentiary of the Republic of Austria to Ukraine:
- Today's event is very important for the development of cooperation between Austria and Ukraine. This is a very good sign for further recovery of Ukraine at this uneasy time. This is also a very good sign for Mariupol given its proximity to the contact line. Investments in this city allow to provide for stability.
As a reminder, Ilyich Steel had earlier concluded a contract with Novokramatorsk Machine Building Plant (NKMZ) for the supply of hot strip coiling equipment with a total value of UAH 80 million. The new equipment will be installed during the reconstruction of 1700 HSM and will allow to produce heavier coils as early as the end of 2017, with their downstream processing being horizontal, which reduces the risk of damage at transportation. From 2016, Ilyich Steel and Primetals Technologies Austria GmbH have been constructing a two-strand continuous casting machine. Total investments in the project amount to over $150 million. The new two-strand CCM will allow Ilyich Steel to produce 2.5 million tonnes of premium cast slabs per year for their subsequent re-rolling on Mill 1700.