9 February 2017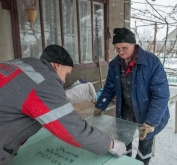 Metinvest Group's Ilyich Iron and Steel Works of Mariupol (MMKI) helped repair 56 homes in Sartana settlement damaged by artillery shellings.
Steel makers joined the efforts to rehabilitate the settlement within the first hours after the shelling. In order to eliminate the destructions, the plant allocated 15 Ruberoid roofing felt rolls, 400 square meters of glass panes, 60 square meters of profiled sheeting, timber and bricks.
During three days 98 workers of MMKI (stone-masons, roofing workers, woodworker, metal workers, and glass cutters) fulfilled the works to glazing in 48 houses, replaced three damaged roofs and eliminated all critical breakdowns.
"One and a half years ago, following the first shelling of Sartana the steel makers also lent a hand to the settlement. We will never leave our fellow countrymen in trouble. We are one family. I am grateful to the mayor of Mariupol, our steel makers, volunteers and everyone involved in rehabilitation of the settlement. Together we were able to eliminate the damage within very short period of time. It was extremely important to manage the repairs before the onset of extreme freezing temperatures. And we did it, said Yuriy Zinchenko, the General Director of MMKI.
We would like to remind that on 3-4 February, Sartana, a settlement near Mariupol was twice exposed to artillery shelling. The shells exploded in six streets (Krainaya, Pushkin, Severna, Severny blind alley, General Kurkchi and Schmidt) damaging over 50 houses.