30 January 2017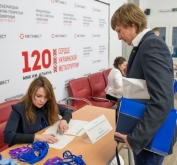 On January 26-27, Ilyich Iron and Steel Works of Mariupol (MMKI) of Metinvest Group hosted an R&D conference attended by young specialists from steel and mining companies in Ukraine. Over 60 employees from MMKI, Azovstal, Zaporizhstal, Yenakiive Steel, Khartsyzsk Pipe, Avdiivka Coke, Southern Iron Ore Enrichment Works, Dnеprovsky Iron and Steel Works and Alchevsk Iron and Steel Works presented their researches addressing various operational aspects.
The participants presented their developments on the automation of production processes and diagnostic systems, product quality improvement, waste processing and recycling, industrial safety and logistics. Andrey Chichikov, an MMKI engineer, spoke about the practical use of modern diagnostics tools like thermography and visual and optical inspection. Aleksandr Tatarenkov, an electrical fitter from Dneprovsky Iron and Steel Works, conducted a research using state-of-the-art industrial controllers for process control automation systems.
The majority of researches were dedicated to resource and energy saving. Deputy sinter shop manager Aleksandr Shramko from Dneprovsky Iron and Steel Works designed a calculation model that helps reduce natural gas consumption for the production of sinter.
Lead engineer Aleksandr Medvid from Zaporizhstal shared with his colleagues the advanced technical solutions for the reconstruction of blast furnace No.3 that will significantly reduce the consumption of raw materials and fuel for the production of hot metal. The head of the task force in MMKI thermal engineering department Mikhail Tomash spoke of ways to improve the performance of blast furnaces that use pulverized coal injection technology.
Presentations and researches were evaluated by the expert panel. The main evaluation criteria were newness, applicability, financial benefits, and implementability at the manufacturing sites. The experts selected three best presentations in each of the seven topical groups. The winners received diplomas and monetary prizes.
General Director of MMKI Yuriy Zinchenko:
"We have talented and trustworthy young people. They all understand how important it is to learn from each other and combine efforts in a search for new opportunities. Participation in the conference is a good platform for active sharing knowledge and experience. This will, in the long run, help improve our overall performance. Many of the presented researches are as vital as never before. I think some of the projects can be implemented right away."