14 December 2016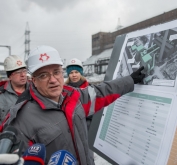 Metinvest Group Iron and Steel Works of Mariupol (MMKI) has launched the construction of the plant for the cleaning of flue gases from SOx as part of the new sinter plant gas cleaning system. The project with a budget over UAH 900 million will allow to reduce the emissions of sulfur compounds by 43%.
The specialists have started construction works in the cooling and sintering areas of sinter machines No.7, No.8 and No.9. Parallel to that, Hurriclone dry cyclones of Termokimik Corporation (Italy) are being installed on sinter machine No.5. Termokimik specialists provide on-line supervision of the sinter plant reconstruction process.
The new sinter plant gas cleaning system at MMKI envisages a three-stage baghouse filter cleaning of sinter gases. The primary dust cleaning takes place in high performance latest generation cyclones and in the reaction zone . Fine cleaning of the gas flow is performed by the baghouse filter of the desulfurization system. The system of gas cleaning equipment is fully tight and envisages dust recovery.
The construction of the desulfurization system is an important phase in the reconstruction of the sinter plant, the largest ecological project in the history of independent Ukraine. Project investments of Metinvest Group totaled $220 million.
Yuriy Zinchenko, the general director of MMKI:
- We undertook a commitment to reduce sinter plant emissions to stringent European standards before 2020. The pace at which the works are going on today allows us to say that we will be able to deliver our commitment on time. Within the next three years, the modern system will help us reduce dust emissions by 90%, and sulfur oxide by 43%.