18 November 2016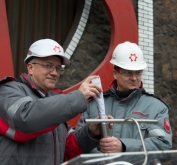 MMKI commenced construction of a two-strand concaster (CCM) with capacity of 2.5 million tonnes of premium segment slab per year. Metinvest Group will invest $150 million into the project. On 17 October, Austrian Primetals Technologies, primary supplier of equipment and technology for the new CCM visited the construction site.
General Director of MMKI, Yuriy Zinchenko and Vice President of Primetals Technologies for Sales and Marketing in Ukraine, Robert Reisetbauer, placed a time capsule into the foundation of CCM No. 4. Austrian partners will start deliveries of the metallurgical equipment in March 2017.
The project also includes modernization of Basic Oxygen Furnace production process and construction of secondary metallurgy treatment facilities. A new twin Ladle Furnace and alloy feed system supplied by Primetals Technologies make it possible to produce steel grades with ultra-low and ultra-high carbon level. State-of-the-art process control system will allow better coordination of steel making and casting.
The process of buildings dismantling, relocation of utility, communication and fire fighting lines is currently in progress, and preliminary foundation works have commenced. In 2017, steel structures and cranes will be installed, foundations of the CCM and the Ladle Furnace will be ready, as well as substation building construction will be completed. The commissioning of the facility is planned for the end of 2018. MMKI personnel that will work at the CCM will attend a training in Austria.
The project's technical solutions correspond to the best international practices, including the environmental aspects. Gas cleaning from Primetals Technologies will ensure dust content in purified gas under 12 mg/cubic meter, while the Ukrainian state requirement is under 50 mg/cubic meter, and European norm is under 30 mg/cubic meter.
Yuriy Zinchenko, general director of Ilyich Iron & Steel Works of Mariupol:
"New CCM at MMKI will enable significantly increasing the presence of Metinvest Group in the world markets of steel. This will benefit not only our Company, but the whole Ukraine. We will be selling more high quality steel, and the country will generate more foreign currency revenues and tax payments. In addition, Austrian technology that will be used in the project will make the CCM 2.5 times more environmentally friendly than required according to the European standards. Therefore, both the economy and the ecology of the country will win."
Robert Reisetbauer, Vice President of Primetals Technologies for Sales and Marketing in Ukraine:
"We have a long history of cooperation with Metinvest. This time, we will jointly build a ultra modern unit with very few equivalents in the world. The latest technological solutions of this CCM will allow the enterprise to expand its product line, and become more competitive in the world market. During the following 18 months, our teams will closely cooperate to achieve the best possible result."