17 November 2016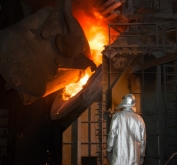 Ilyich Iron and Steel Works of Mariupol (MMKI) has finished the major overhaul of Basic Oxygen Furnace (BOF) No. 2 , which involves a complete revamp of dust and gas cleaning equipment. Project investments totaled UAH 230 million.
A new furnace shell was installed during the major overhaul. The waste heat boiler and the gas cleaning system were also replaced. The new gas cleaning system will allow to reduce dust and gas emissions into the air by almost three times. The maintenance and repair works were delivered within 80 days by a service organization Metinvest PromService.
Yuriy Zinchenko, the general director of MMKI:
"We keep the promises we made to the people of Mariupol and are completing yet another large-scale environmental project. The maintenance works were started earlier and the overhaul was performed within the shortest possible time. The new gas cleaning system will fully eliminate the problem of dark reddish smoke of BOF No.2. We continue to modernize our production facilities in order to comply with the European environmental standards."
As a reminder, MMKI completed the first phase of gas cleaning equipment revamp in the BOF Shop in 2014 by modernizing the gas cleaning system of BOF No.1.