14 November 2016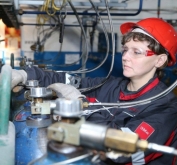 Iron and Steel Works of Mariupol of Metinvest Group supplied 30 thousand cubic meters of oxygen to medical institutions of Mariupol since the beginning of 2016. The amount of grant assistance to the city was UAH 1.6 million.
Oxygen is used by all resuscitation services of Mariupol. The gas is used to provide help to patients with asthma, bronchitis, cardiovascular diseases, in case of intoxications, states of shock and kidneys' function disorders. Oxygen is supplied to the perinatal centre, emergency hospital, oncology hospital, Regional Centre for Emergency Medical Care and Disaster Medicine in Mariupol, city hospitals No. 1, 2, 4, 5, 9 and local "Health of the Child and Woman" medical facility.
Daily the plant transfers to hospitals from 180 to 240 cubic meters of bottled oxygen. Also the plant provides emergency assistance (even on weekends and holidays) to medical institutions at the birth of weak neonates, in the winter period during flu epidemic, pneumonia.
Yuriy Zinchenko, general director of Ilyich Iron and Steel Works of Mariupol said,
- Since 2015, metallurgists have supplied oxygen to nine city medical centers and hospitals to the amount of more than UAH 4 million. We are proud that oxygen produced by the plant does not only help melting iron and steel, but also heals and saves people's lives. We continue to strengthen cooperation with the city, to jointly promote the development of public health care.