20 September 2016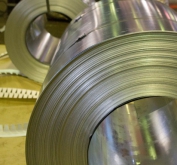 Metinvest Group's Ilyich Iron and Steel Works of Mariupol (MMKI) launched production of two new grades of galvanized coil that meet EU EN 10346 (for Ukrainian customers: DSTU EN 10346).
The enterprise launched the production of DX52D и S220GD steel grades under the program to expand its galvanized products line.
DX52D is a cold rolled coil steel product for press forming and profiling. It is widely used in construction, production of complex profiles, machine building and automotive industry to make the elements of car bodies and other car and machinery components.
S220GD galvanized rolled steel is used in construction sector to make bent profiles for light gauge steel structures. These steel structures are used in new construction and rebuilding of residential, production, retail and warehouse infrastructure (supporting profiled sheeting, flooring, etc.).
Rolled steel in DX52D and S220GD grades is available in coils with thicknesses of 0.4-1.6 mm and width of 1000-1250 mm. First industrial batches of new products have been shipped to customers in Ukraine and Czeck Republic. Until recently, only imported equivalents (from Russia and China, mainly) were available in the domestic market.
Galvanized coil produced under EN 10346 standard and its Ukrainian version is in demand both in Ukraine and abroad. New types of rolled steel will be supplied to the domestic market, and the countries of Europe and the Middle East. Earlier, MMKI had launched EU standard based production of galvanized coil made of S250GD, S320GD, S350GD, and DX51D steel grades.