14 September 2016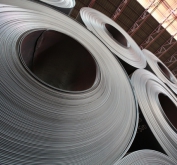 Ilyich Iron and Steel Works of Mariupol (MMKI) has set up the production of high strength hot-rolled coils of S460MC grade according to the European standard EN 10149-2.
This product is manufactured using thermomechanical rolling and is characterized with good weldability, crack resistance and high moldability. Rolled products made from steel of S460MC grade are used in machine building, where high strength and low weight are required for assemblies and components of crane and mining equipment, telescopic jibs and auto parts.
The first 120 tons of rolled material have been supplied to Poland. The new product is intended for the domestic market and markets of South-Eastern and Central Europe.
Hot strip mill 1700 of MMKI has set up the production of hot-rolled material for gas cylinders according to the Japanese standard JIS G 3116, one of the most commonly used in the segment.
The first lot of 3х1060 mm coils was shipped to a customer in Lebanon. The product has an optimal combination of structure and mechanical properties, and can be used for welding and manufacture of boiler parts and components as well as pressure vessels.
Hot-rolled coils of SG255 steel grade will be sold in South and South-East Asia and the Middle East markets.