5 July 2016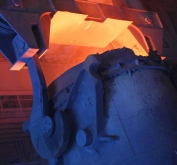 In September this year, Metinvest Group's Ilyich Iron and Steel Works of Mariupol (Ilyich Steel) is carrying out major overhaul on BOF vessel No.2 with the upgrade of the gas cleaning system. The cost of the work is more than UAH 230 million. The project is part of the Program on Environment Protection and Improvement in Mariupol for 2012-2020. It was submitted in April 2016 at the meeting between the management of the Group and Mariupol Steelworks and local activists and environmental experts. The project implementation will help reduce dust emissions to the air by two-half times and meet the European environmental standards.
Internal contractor (service entity Metinvest PromService) will replace the BOF vessel body, upgrade most of assemblies of the vessel and reconstruct the gas cleaning system. Specialists will install a new waste heat boiler and industrial fan manufactured in Germany. The enterprise has been actively preparing for the major overhaul: equipment pre-assembly started.
In 2014, Ilyich Iron & Steel Works of Mariupol completed the first phase of the reconstruction of filters in the BOF shop having upgraded the gas cleaning system at BOF vessel No.1. Furthermore, the enterprise decommissioned the open-hearth furnace production in 2015. Ilyich Steel is currently implementing the largest environmental project in the history of independent Ukraine, i.e. sinter plant reconstruction with a total value of $220 million.
Yuriy Zinchenko, general director of Ilyich Steel said,
"Major overhaul of BOF vessel No.2 is our next project with an environmental protection scheme. The decommissioning of the open-hearth furnaces, reconstruction of the sinter plant, upgrade of the gas cleaning at BOF vessel No.1, implementation of the fume extraction system at the blast furnace are all focused on improvement of the environmental situation in Mariupol. Although our enterprise faces many difficulties associated with logistics and unfavourable dynamics of prices for finished products, we continue to sponsor environmental programs. We have invested more than UAH 600 million since 2012."