16 June 2016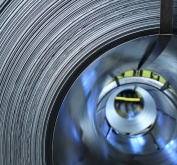 Ilyich Iron & Steel Works of Mariupol has launched the production of the new standard size of hot-rolled coils in May this year.
The plant produced the first commercial batch of hot-rolled coils of S235JR grade with the dimensions of 3 х 1500 mm in full compliance with the requirements of the European standard EN 10025-2. It is the first time, when such coils are made in Ukraine.
The production was launched without having to raise capital by adjusting the equipment of the existing 1700 Mill. The plant's capabilities enable it to produce rolled coils according to the European standards or to obtain dual certification (according to the DSTU and the European norms).
The products are used for construction, railcar manufacturing, and production of pipes for general applications, and are intended for sale on the domestic market and for export. A lion's share of such products is coming from Russia.