30 May 2016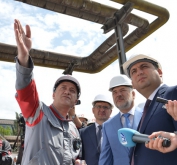 The Prime Minister of Ukraine, Volodymyr Groysman visited Metinvest Group's Ilyich Iron and Steel Works of Mariupol (MMKI) within the frames of his visit to Mariupol. The Prime Minister attended the sinter plant reconstruction site – the largest environmental project in the history of independent Ukraine (at the end of five years of the project the total investment will comprise USD 220 million). Volodymyr Groysman also visited the Basic Oxygen Furnace Shop. The Prime Minister was accompanied by Yuriy Ryzhenkov, Metinvest Group's Chief Executive Officer, and Yuriy Zinchenko, General Director of MMKI.
In the course of the meeting, the Group's and enterprise management drew attention of the Prime Minister to the infrastructure problems encountered by the iron and steel works in Mariupol: MMKI and Azovstal. In particular, the discussion touched upon the possibility to increase the throughput capacity of "Pologi – Kamysh-Zarya – Volnovakha" railway section, which would enable to increase the volumes of raw materials supply to Mariupol and finished goods shipments from Mariupol significantly. The steel makers also mentioned the need to deepen the waters of Mariupol Sea port to open the possibility to receive large vessels. Volodymyr Groysman noted that there was also the issue of rising railway tariffs by the Ukrainian Railways (Ukrzaliznytsia).
In the course of the visit to MMKI, the Prime Minister instructed the Ministry of Economic Development and Trade to arrange an ad hoc meeting involving the executives of the Ministry of Infrastructure and Ukrzaliznytsia, as well as other ministries and departments in order to discuss the state policy in the field of support to the mining and metals sector. "I want us to sit at a round table and clearly discuss the problems to be resolved in order to expand the product range and export capabilities rather than decline production. Export for us is of utmost importance," emphasized the Prime Minister.
In opinion of the Prime Minister, the development of domestic infrastructure projects could stimulate related industries, including metallurgy. In this regard, he noted the importance of Metinvest Group's investments in modernization of the production facilities, adding that the metallurgy was an industry, the development of which was absolutely necessary. Volodymyr Groysman also promised to render assistance by the Government in terms of strengthening competitive ability of the Ukrainian companies with export potential.
Volodymyr Groysman, Prime Minister of Ukraine:
"The modernization program at the enterprise gives us confidence that the environmental situation in Mariupol will start improving already in 2017. Within five years, the emissions to the atmosphere will meet EU standards. This development should be welcomed. I would like Ukraine to switch from raw materials-based economy to high added-value economy. During our visit to Mariupol, we saw, where the national product is being created. We will do everything possible to stimulate the business, so it attracts investments to the construction of new capacities and creates the national product."
Yuriy Ryzhenkov, Chief Executive Officer of Metinvest Group:
"Despite all the challenges, Metinvest Group continued to invest in the development of its production facilities. During 10 years, the Company has invested USD 5.5 billion in production. We intend to continue the modernization emphasizing environmental safety. In this regard, the support from the Government is crucial. Without the Government's assistance in the area of fair pricing policies of the state monopolies and resolving the infrastructure problems, the steel makers will have extremely hard times competing in the international markets and developing their production facilities."