3 March 2016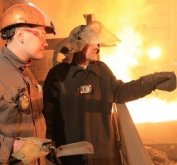 Metinvest Group's Ilyich Iron and Steel Works of Mariupol (MMKI)is implementing a modern system to protect the workers against carbon monoxide poisoning. The industrial sites of the enterprise are being equipped with stationary gas sensors, which reduces the risk of incidents by an order of magnitude. The project is worth $2 million.
Stationary gas analysers have been installed in six shops already: Blast Furnace Shop, Gas Shop, Heat and Power Shop, Grid and Substations Shop, Water Supply Shop and in defrosting sheds of the Railway Department.
The system includes computerized control equipment and gas analysers with visual and sound alarm systems. If carbon monoxide concentration exceeds 20 mg per cubic meter of air, yellow lights will be activated, if 50 mg – red and warning howler will be activated.
By the end of the year 2016 the equipment will be also installed at thermal stations and the plate rolling mill «1700» and Cold Rolling Shop.
Carbon monoxide is a highly toxic gas that does not have smell and colour. Even relatively low concentrations can cause acute poisoning in people with fatal outcome. Carbon monoxide poisoning risk hazard is especially high in metallurgical production. In 2013, MMKI shops employees started using portable gas analysers. However, the stationary gas control systems have an advantage – they cannot be affected by human factor. The danger signal is triggered automatically and timely, which guarantees safety of iron and steel makers.
Yuriy Zinchenko, general director of Ilyich Iron & Steel Works of Mariupol:
"Stationary gas control systems will be installed at areas of the plant, where carbon monoxide poisoning risk is present. Today this equipment is one of the most advanced in the metallurgical sector. For our employees, the new system combined with portable gas analysers will ensure high safety level corresponding to the best world standards. Health and safety of the employees is one of our main priorities."