26 February 2016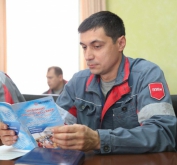 Metinvest Group implemented a new ERP system at MMKI. German SAP ERP will allow improving the quality of business processes management in the following functional groups: "Production", "Maintenance and Repair", "Sales", "Logistics", "Finance", "Purchases", "HR", "Salary", "Risks and Authority Management".
MMKI is the first enterprise of such scale in Ukraine to implement SAP. The ERP system implementation project entered its active phase in April 2014. Analytical reporting or the last project phase will complete in April 2016.
During six months, Metinvest Group's team of experts in business processes transformation and corporate systems jointly with the MMKI's specialists adapted and coordinated the blueprint including 245 project solutions. The project team adapted processes, prepared data based on SAP system's requirements, tested data migration into SAP software, and conducted integration testing of the business processes.
Over 1,100 key users and approximately 5,500 end-users were trained in SAP system operation. Currently, the experts continue providing users with methodological and hands-on support.
Yuriy Ryzhenkov, Chief Executive Officer of Metinvest Group:
"SAP system is in operation at most of the Group's enterprises. In this manner the Company standardizes and centralizes the business processes in order to ensure high efficiency of management. We have to fight for the market and for the customers every day. SAP allows eliminating waste promptly and utilizing resources efficiently."
Yuriy Zinchenko, General Director of MMKI:
"Today, SAP-platform has become our key corporate information system and provided integration into Metinvest Group's common network. With SAP implementation, we have obtained a tool for making efficient management decisions, purchasing optimization, products quality improvement, and accurate accounting. All the operations have been automated and become transparent. Control over business processes has been simplified to the maximum possible extent, as we can see the situation in real time."