23 February 2016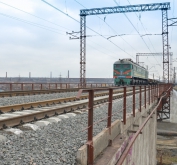 Metinvest Group's Azovstal and Illich steel plants invested more than UAH 90 million in Mariupol's development in 2015.
The metallurgists rolled out 89 projects to rebuild the infrastructure and housing damaged by hostilities, reconstruct hospitals, schools, kindergartens and roads and buy transport vehicles.
The 24 January 2015 shelling of Skhidny residential area could have turned into a humanitarian disaster but for the timely help of Mariupol-based steel plants. The employees started rebuilding the damaged areas the following day. They donated about UAH 9 million for temporary window insulation with polyfilm as well as for window glazing, repairs of kindergartens, schools and private houses. In addition, steel plants committed over UAH 3 million for the residents to reconstruct their houses on their own.
Metinvest Group donated UAH 14 million to reconstruct the railroad bridge across the Kalchik river which was blown up in late 2014. The metallurgists quickly reconstructed a standby one-line bridge while the principal one was under construction. These efforts helped prevent an economic collapse and shutdown of production companies in the city, as well as renew railway communication between Mariupol and the rest of Ukraine.
Illich Plant workers donated UAH 1.7 million for a bombardment clean-up in Sartana village. The staff of repairs and improvements shop reconstructed 124 private houses and laid 800 meters of asphalt. The plant bought two new buses to ensure good commuting between Sartana, Talakivka and Mariupol.
Azovstal is carrying on an overhaul of city hospital No. 4. Last year the plant reconstructed the nutrition unit and the histological laboratory there. Illich Plant bought a surgical table and an X-ray machine for the neurosurgery department in city hospital No. 5. Mariupol's mainstays supported eight more medical institutions in the city and ensured supplies of vital oxygen there.
In 2015, Azovstal finished the reconstruction of the upper layer in Leporsky Park, with footpaths made, street lightning and summer stage rebuilt as well as a skateboard ground enlarged.
Last August and September, Illich Plant repaired 30,000 sq m of roads in 60 yards, channelling over UAH 6 million into the infrastructure project. The inner yard roads have not seen such repairs for decades.
Steel plants invested nearly UAH 3 million in reconstruction of seven kindergartens and twelve schools to prepare them for the new school year and bought new furniture for all schools in a district. Moreover, Azovstal and Illich Plant donated additional UAH 5 million to build 110 playgrounds and sports fields across Mariupol.
Enver Tskitishvili, Azovstal's General Director:
"Last year the war interfered with our peaceful plans more than once. It was impossible to be fully engaged in construction and development, as we had to focus all our resources on rebuilding what had been damaged. We were reconstructing villages, schools, bridges and entire residential areas. At the same time, we managed to keep on supporting the city in implementing important infrastructure projects. This is the way it should be. The metallurgists and residents will work together to develop our home city."
Yuriy Zinchenko, Illich Iron & Steel Works' General Director:
"We have been increasing our investments in Mariupol's development year on year. I am talking about UAH 250 million over the last five years. This is our responsibility to Mariupol citizens. This is our intended contribution to the future of the city. Today the metallurgists have to survive because of the crisis in the country, situation in the global markets and a draconian policy of the national monopolies. Nevertheless, we believe in the future of Ukrainian steel industry and in the future of Mariupol. We will keep on struggling, we will keep on building and developing both the plants and the city."