9 February 2016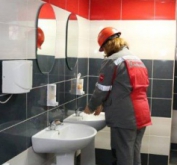 Mariupol steel works of the Metinvest Group have summarized the results of the Workers' Amenities corporate program. Over UAH 17 million were invested in 2015 to improve the working conditions for the workers at MMKI and Azovstal.
The enterprises go step-by-step to create favourable and comfortable working conditions for their employees. Last year alone, repair and construction works for the replacement of the heating system, sewerage, water supply, ventilation and air conditioning were performed in 13 departments of the metallurgical assets of the Metinvest Group in Mariupol.
The BOF shop, boiler area of the Heat and Power Plant and the Warehouse Management Department of Azovstal now have renovated shower rooms, water closets and dining rooms. Repairs were also performed in 1700 Mill and 3000 Mill shops, Heat and Power Plant #2, Water Supply Shop, Rail Transport and Road Transport departments, and in the Lime Kiln Shop of MMKI.
Yuriy Zinchenko, general director of Ilyich Iron & Steel Works of Mariupol:
- People spend most of their active life at work. Therefore, the improvement of comfort and safety at work is on the list of our priorities. We steadily renovate the facilities in all business units of the enterprise to create descent working conditions and amenities.
Enver Tskitishvili, general director of Azovstal:
- There are basic things, which determine a lot. By creating descent conditions for work and leisure the enterprise tells its employees how much they are valued. This is an important part of motivation.
For editors:

PJSC Ilyich Iron and Steel Works of Mariupol is one of the largest integrated iron and steel producers in Ukraine. It produces pipes and rolls flat products from carbon, low-alloyed and alloyed steel grades for various applications: hot-rolled heavy plates and plates for main line pipes, ships, pressure vessels, bridges and other super-duty steel structures; hot-rolled plates, sheets and strip including pickled material; cold-rolled products including galvanized strip, sheets and coils, also for cold forming, manufacture of profiled steel sheeting and other.

PJSC Azovstal Iron and Steel Works is a modern high-tech enterprise producing a wide range of steel products: slabs, rolled sections and shapes, rails, rail fastenings, square billets, plate, and products from metallurgical slag. The production capacity of the enterprise allows to produce over 5.5 million tons of hot metal, over 6.2 million tons of steel (targeting 7 million tons of steel per year), and over 4.4 million tons of rolled products. The design capacity for rail fastenings amounts to 285 thousand tons per year, and grinding balls to 170 thousand tons per year.

METINVEST is an international vertically integrated steel and mining group of companies that manages every link of the value chain, from mining and processing iron ore and coal to making and selling semi-finished and finished steel products. It has steel and mining production facilities in Ukraine, Europe and the US, as well as a sales network covering all key global markets. Metinvest Group is structured into Metallurgical and Mining Divisions. The Group has a strategic vision to become the leading vertically integrated steel producer in Europe, delivering sustainable growth and profitability resilient to business cycles and providing investors with returns at above the industry benchmarks. The Group generated US$5.4 billion of revenues and a 15% EBITDA margin for the nine months of 2015.

The major shareholders of METINVEST B.V. (the holding company of Metinvest Group) are SCM (71.24%) and Smart Holding (23.76%), which partner in its management.

METINVEST HOLDING LLC is the management company of Metinvest Group.