5 June 2015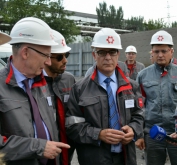 A delegation from the French Senate headed by Senator Hervé Maurey, chairman of the France-Ukraine Friendship Group, visited Ilyich Iron & Steel Works of Mariupol.
The senators visited the site of the reconstruction of Europe's largest sinter plant at Ilyich Iron & Steel Works of Mariupol, which is the largest environmental project in Ukrainian history.
The French politicians noted the magnitude of the project, including volume of investment and appreciated Metinvest Group's efforts to improve the environmental situation in Mariupol.
Hervé Maurey, French senator, chairman of the France-Ukraine Friendship Group:
"It is great that such a large enterprise has not forgotten about ecology. This is an example of how to combine production and the environment. Industrial enterprises' manufacturing processes should be safe for the environment. The plant has demonstrated its responsibility by initiating this large project to reduce harmful emissions and improve the air quality in Mariupol."
Jacques Legendre, French senator, deputy chairman of the France-Ukraine Friendship Group:
"It is a wonderful project, very large and indeed important for the city, and is of vital importance for the environment. I am stunned by the plans and I wish them success."
Gennadiy Chyzhykov, Ukrainian Chamber of Commerce & Industry president, honorary consul of the French Republic:
"We realize that the plant is the major employer in the city. I am pleased to hear that in such challenging times, the enterprise is supporting its employees and there have not been layoffs. The Group's and the plant's management live together with the city and their employees. I am impressed by the plant's five-year emissions reduction plan. Mariupol used to have a negative reputation for environmental problems and today it has become a model for solutions and is setting an example for positive development."
Yuriy Zinchenko, Ilyich Iron & Steel Works of Mariupol general director of MMKI:
"Despite all of the complexities, we are launching large scale environmental projects to make the air cleaner in the city. It is important that Europeans see this and talk about it to the entire world. In this way, the opinion of Mariupol will change for the better. We are showing everyone that it is safe in Mariupol and that investing is possible; the city is developing and wants to be European. Iron and steel makers are open for joint investment projects with European partners. We want European capital inflow into our city that can enable full-scale modernization."
Last month Ilyich Iron & Steel Works of Mariupol launched another phase of its sinter plant reconstruction project. Investments into the project will comprise $220 million, while emissions will drop 11 times. Equipment from Termokimik Corporation will decrease dust emissions from the sintering area by 85% and from the cooling area by 90%. Modern collection facilities for sulphur compounds will also be constructed, helping to facilitate a decrease in sulphur oxide emissions by 43%.