26 May 2015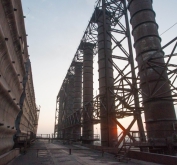 Metinvest Group's Ilyich Iron and Steel Works of Mariupol has begun the next stage of the reconstruction of its sinter plant. This is a unique project in terms of scale and environmental impact in the history of independent Ukraine. Metinvest is planning to invest $220 million into the project, which will cut dust emissions by 11 times.
Italy's Termokimik Corporation, a leading producer of environmental equipment for industrial companies, is going to provide technology for the upgrade and has already delivered three sets of new-generation hurriclone cyclones to replace outdated gas treatment facilities. Dust emissions from the sintering area will decrease by 85% and dust emissions from the cooling area will decline by 90%. Metinvest is also planning to build modern facilities to capture harmful sulphur compounds and cut SOx emissions by 43%.
The upgrade of the sinter plant began with the overhaul of sintering machine #1 on 25 May. The company is going to complete the reconstruction and install dust and gas treatment facilities at that sintering machine in one month. That project will cost more than UAH 600 million. The upgrade of environmental systems will not affect sinter provision to Ilyich Iron & Steel Works of Mariupol and Azovstal plants since the company will install filters when production equipment is shutdown or repaired. Today Metinvest is dismantling outdated equipment and assembling new parts for its gas treatment facilities and is preparing the building for the installation of high-efficiency filters.
Yuriy Ryzhenkov, Metinvest Group CEO:
"Metinvest Group is continuing to upgrade the sinter plant despite the armed conflict [in the Eastern Ukraine] and difficult situation in the industry. We are consistently pursuing our goal of having a minimal impact on the environment. As soon as the reconstruction project is completed, the sinter plant will comply with strict environmental standards."
Yuriy Zinchenko, Ilyich Iron and Steel Works of Mariupol general director:
"We are going to complete the upgrade the gas treatment facilities for the sinter plant to comply with international environmental standards by 2019. European diplomats led by the head of the EU delegation to Ukraine Ambassador Jan Tombinski recently visited the construction site and gave a positive assessment of the project and its impact on all Mariupol residents. People have always been our priority. Metinvest is satisfying its environmental commitments to the city and we are going to continue to do so.
"Ilyich Iron and Steel Works of Mariupol's sinter plant is the largest in Europe. Its twelve sintering machines fully provide the blast furnace shop with raw materials. Metinvest is constantly improving the manufacturing and cleaning equipment at the sinter plant and has invested almost UAH 400 million on upgrade over the past four years.
"The Group announced its commitment to reconstruct the sinter plant at the end of 2012. In December 2013, Metinvest signed an agreement with Termokimik Corporation for basic engineering as part of the modernization of sintering facility at Ilyich Iron & Steel Works of Mariupol."
For editors:

PJSC Ilyich Iron and Steel Works of Mariupol is one of the largest enterprises in Ukraine with full metallurgical cycle. The works produces pipes and flat rolled products of carbon, low-alloy and alloy steels for different applications: hot-rolled plates and sheets intended for the production of pipes for main pipelines, ships, pressure vessels, bridge constructions, other metal constructions for critical application; hot-rolled plates, sheets and strips including pickled; cold-rolled, including galvanized, bands, sheets and strips, including for cold stamping, flooring and others.

METINVEST is an international vertically integrated mining and metallurgical group of companies that manages assets in each segment of production chain, from extraction of iron ore raw materials and coal up to manufacture of steel semi-finished and finished products. The Group includes mining and steel companies located in Ukraine, Europe and the United States with a sales network covering all key global markets. Metinvest Group consists of metallurgical and mining divisions. Metinvest pursues a strategic vision to become the leading vertically integrated steel producer in Europe with sustainable growth and profit irrespective of economic cycles and ensure a higher return on investments than the industry average. In 2014, the Group gained $10.5bn in revenues, with its EBITDA margin making 26%.

The key shareholders of METINVEST B.V. (Holding Company of Metinvest Group) are SCM Group (71.24%) and SMART Group (23.76%) that take part in the Group administration on a partnership basis.

METINVEST HOLDING LLC is the managing company of Metinvest Group.

For more information, please visit www.metinvestholding.com