22 April 2015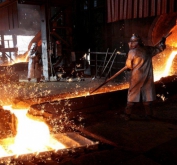 Ilyich Iron & Steel Works of Mariupol's blast furnace shop made a monthly record of more than 140,000 tons of pig iron in March. It set a new record for daily output as well: 6,800 tons of cold pig iron on 31 March.
The commercial pig iron was shipped to customers in Italy and the United States. Last month, the company made its first direct delivery to the United Arab Emirates.
The blast furnace shop has also started producing new pyramid-shaped pig iron, which is in demand abroad. Today all four of its pig casting machines are producing "pyramids" for export.
The March records were the result of extensive preparation. Last year, the plant tightened control over its repair schedule; timely maintenance and repairs have helped to ensure the stable operation of machinery and meet production targets.
During peak times, Ilyich Iron & Steel Works of Mariupol used to stop its casting machines every four months for overhauls to ensure trouble-free operation.
Railway personnel at the plant used standby equipment to deliver ladles with liquid pig iron to casters on time.
The company also increased cold pig iron inventory. Additional Sennebogen handlers helped to ship pig iron on time without overstocking the warehouses.
Yuriy Zinchenko, general director of Ilyich Iron & Steel Works of Mariupol:
"We have increased commercial product output since last year when the cost effectiveness of pig iron production rose. Today it is commercial pig iron that is keeping the blast furnace utilization rates high and helping retain jobs. Our products are in demand abroad as well. If the long-sought peace in Donbass region takes hold and the government pursues a transparent policy for dealing with business, the metals sector will survive and have new development prospects."
For editors:

PJSC Ilyich Iron and Steel Works of Mariupol is one of the greatest enterprises in Ukraine with full metallurgical cycle. The Works produces pipes and flat rolled products of carbon, low-alloy and alloy steels for different applications: hot-rolled plates and sheets intended for the production of pipes for main pipelines, ships, pressure vessels, bridge constructions, other metal constructions for critical application; hot-rolled plates, sheets and strips including pickled; cold-rolled, including galvanized, bands, sheets and strips, including for cold stamping, flooring and others.

METINVEST is a vertically integrated mining and metallurgical group of companies that manages assets in each segment of production chain, from extraction of iron ore raw materials and coal, as well as coke production up to manufacture of steel semi-finished and finished products, pipes and coils and also manufacture of other high-value-added products. The Group incorporates mining and metallurgical enterprises located in Ukraine, Europe and USA and has sales network covering all global key markets. Metinvest Group incorporates Metallurgical and Mining Divisions. According to the strategic vision of Group it is aimed to become the leading European vertically integrated steel manufacturer with sustained growth and profitability, despite the cyclical nature of markets, and provide investment yield above the industry standards. For the first three months of 2014 ended March 31, 2014, the Group received a US$ 2.9 billion in revenue, EBITDA profitability was 30%.

The key shareholders of METINVEST B.V. (Holding Company of Metinvest Group) are SCM Group (71.24%) and SMART Group (23.76%) that take part in the Group administration on a partnership basis.

METINVEST HOLDING LLC is the managing company of Metinvest Group.