26 September 2014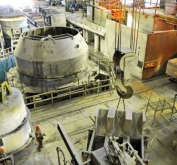 In September a large-scale general repair of Basic Oxygen Furnace No. 1 has commenced at PJSC "ILYICH IRON & STEEL WORKS" (Metinvest Group). The issue of substantial reduction of harmful environmental emissions will become an important work objective along with the necessity to increase economic efficiency of steelmaking process.

Gas exhaust duct, chiller boiler and other equipment of wet gas purification system will be replaced in the course of repair work. And this will enable to reduce essentially dust emissions, thus, carbon content at the filter outlet will shrink by one fourth. Metinvest Group is going to allot about 122 million grivnyas for the purpose of the above project implementation; herewith 90 million grivnyas of that amount will be submitted to adoption of environmental technologies. The entire procedure of general repair is to be accomplished during two months.
Director General of PJSC "ILYICH IRON & STEEL WORKS" Yuri Zinchenko:
- In spite of the complicated situation in the sphere concerned and within the region, Metinvest Group keeps on introducing step by step innovative technologies which enable to reduce drastically the man-induced impact on the environment. Non-polluted air and increase of human wellbeing appear to be a viable perspective for Mariupol. Present-day high-efficiency and ecologically pure production constitutes the future that the Company aims for.
For editors:

PJSC "ILYICH IRON AND STEEL WORKS OF MARIUPOL" is one of the largest integrated enterprises in Ukraine. The enterprise produces pipes and flat rolled products of carbon, low-alloy and alloy steels for different applications: hot-rolled plates and sheets intended for manufacturing of pipes for main pipelines, ships, pressure vessels, bridge structures, other steel structures for critical application; hot-rolled plates, sheets and strips including pickled; cold-rolled, including galvanized bands, sheets and strips, including for cold stamping, flooring and others.

Metinvest is a vertically integrated mining and metallurgical group of companies that manages assets in each segment of production chain, from extraction of iron ore raw materials and coal, as well as coke production up to manufacture of steel semi-finished and finished products, pipes and coils and also manufacture of other high-value-added products. The Group incorporates mining and metallurgical enterprises located in Ukraine, Europe and USA and has sales network covering all global key markets. Metinvest Group incorporates Metallurgical and Mining Divisions. According to the strategic vision of Group it is aimed to become the leading European vertically integrated steel manufacturer with sustained growth and profitability, despite the cyclical nature of markets, and provide investment yield above the industry standards. For the first quarter of 2014, ending on 31 March 2014, the Group received a US $ 2.9 billion in revenue, EBITDA profitability was 30%.

The key shareholders of METINVEST B.V. (Holding Company of Metinvest Group) are SCM Group (71.24%) and Smart Holding (23.76%) that take part in the Group administration on a partnership basis.

"METINVEST HOLDING" LLC is the managing company of Metinvest Group.