19 September 2014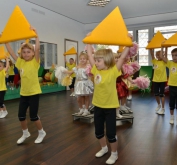 A new multi-purpose room of health was created in Kindergarten No. 163 "Tsvetochek" ("Flower") as a result of social project of Metinvest Group "City by Our Hands".
The construction workers have repaired the walls and the ceiling, installed 6 window blocks and 5 interior doors, covered the floor with laminate, installed new electrical wiring and arranged a storeroom for sports equipment. An arched partition has been mounted in the renovated gymnasium to separate the room for active games and the phytotherapy room. In addition, a fitness bicycle and a running track were bought for children.

Representatives of Iron and Steel Works of Mariupol and Social Union "Metinvest Green Centre" congratulated the educational staff and the children on the occasion of gymnasium opening.

Vadim Boichenko, Director for Human Resources and Social Issues of PJSC "Ilyich Iron and Steel Works of Mariupol":
- Last week we saw a gym opened in another kindergarten which was also repaired within the frameworks of the project "City by Our Hands". Today we congratulate the staff of the "Tsvetochek" kindergarten on completion of a similar project. It is very good that people in Mariupol have such initiatives, because healthy children are our future. For our part, Metinvest Group will always support such ideas of Mariupol citizens.

Konstantin Voitsekhovsky, Director for Human Resources and Administration of PJSC "AZOVSTAL IRON & STEEL WORKS":
- The steelmakers love their city, so we make efforts to create as many places for recreation, sports and children activities as possible. And this project proposed by the kindergarten staff is just the kind of initiative that helps to make our city more comfortable to live in, with well-equipped kindergartens and schools, with beautiful shady avenues and parks.

Sergei Magera, Coordinator of Social Union "Metinvest Green Centre":
- The aim of the project "City by Our Hands" is to help initiative citizens in realizing their ideas for improvement of Mariupol. We are very glad that the 14 winning projects this year include those promoting physical education and sports among the younger generation.

Natalia Chanayakh, Administrator of Kindergarten No. 163:
- Metinvest Group helped us to create a comfortable area for active games and physical training of our children. The gymnasium looks attractive now, full of bright colours and innovative design. This, as well as the new sports equipment, will attract the children with active games, and foster their sustainable interest in physical training and sports.
For editors:

PJSC "AZOVSTAL IRON & STEEL WORKS" is a modern high-technology enterprise manufacturing wide range of steel products: slabs, bars, shapes, railway rails, rail fasteners, square billets, plates and products of metallurgical slag. Production capacities of the enterprise allow to produce annually over 5.5 million tons of iron, over 6.2 million tons of steel (aim is to achieve 7 million tons of steel per year) and over 4.4 million tons of rolled products. Design capacities for rail fasteners production is 285 thousand tons per year, grinding balls 170 thousand tons per year.

PJSC «Ilyich Iron and Steel Works of Mariupol» is one of the greatest enterprises in Ukraine with full metallurgical cycle. The Works produces pipes and flat rolled products of carbon, low-alloy and alloy steels for different applications: hot-rolled plates and sheets intended for the production of pipes for main pipelines, ships, pressure vessels, bridge constructions, other metal constructions for critical application; hot-rolled plates, sheets and strips including pickled; cold-rolled, including galvanized bands, sheets and strips, including for cold stamping, flooring and others.

METINVEST is a vertically integrated mining and metallurgical group of companies that manages assets in each segment of production chain, from extraction of iron ore raw materials and coal, as well as coke production up to manufacture of steel semi-finished and finished products, pipes and coils and also manufacture of other high-value-added products. The Group incorporates mining and metallurgical enterprises located in Ukraine, Europe and USA and has sales network covering all global key markets. Metinvest Group incorporates Metallurgical and Mining Divisions. According to the strategic vision of Group it is aimed to become the leading European vertically integrated steel manufacturer with sustained growth and profitability, despite the cyclical nature of markets, and provide investment yield above the industry standards. For the first quarter of 2014 ended March, 31th, 2014, the Group reported revenues of US$2.9 billion and an EBITDA margin of 30%.

The key shareholders of METINVEST B.V. (Holding Company of Metinvest Group) are SCM Group (71.25%) and SMART Group (23.75%) that take part in the Group administration on a partnership basis.

"METINVEST HOLDING" LLC is the managing company of Metinvest Group.