15 September 2014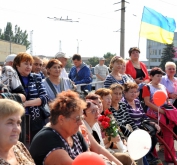 PJSC "Ilyich Iron and Steel Works of Mariupol" of Metinvest Group has made high-quality medical care more accessible for 6 thousand citizens of Mariupol – a new ambulatory clinic has been opened which was built using the funds allocated by the company within the framework of the Program of Social Partnership.
PJSC "Ilyich Iron and Steel Works of Mariupol" allocated around UAH 600 thousand for construction of Ambulatory Clinic No. 8 situated in Donetskaya street. The new-built block-module is equipped with cabinets for two family doctors, a general practitioner and a pediatrician, with a procedure room and a two-bed day patient room. Two doctors and four assistant nurses will work at the ambulatory clinic.
Before the new ambulatory clinic was built, the people living in the nearby residential areas had to go for medical assistance to City Polyclinic situated several kilometers off from their houses.
In prospect, the ambulatory clinic is also to be staffed with a neuropathologist, a surgeon and other specialized doctors. The ambulatory clinic starting its work on the 15th of September will provide medical consultation services for around 60 people residing in Gavan and Slobodka areas per day. The managers of iron and steel works of Mariupol have congratulated the citizens on the occasion of a new medical care institution opened in the city.

Yurii Zinchenko, Director General of PJSC "Ilyich Iron and Steel Works of Mariupol":
- I congratulate everyone on the today's event; it is actually useful project in social way, especially for aged people who find it hard to get to a polyclinic. This ambulatory clinic is another present made by Metinvest Group to Mariupol. Notwithstanding the hard times we are having now, we continue our social partnership with the city council, and a number of other projects are going to be opened by Metinvest Group for the City Day of Mariupol.

Enver Tskitishvili, Director General of PJSC "AZOVSTAL IRON & STEEL WORKS":
- In spite of the difficult situation our region and the steel industry are experiencing at present, Metinvest Group always fulfils its obligations. This year, not a single socially important project of our company was frozen; in total, the iron and steel works are going to invest around UAH 60 million in development of the city infrastructure of Mariupol.

Vadim Boichenko, Director for Human Resources and Social Issues of PJSC "Ilyich Iron and Steel Works of Mariupol":
- The iron and steel works are working under very complicated conditions today, but we continue to develop the city infrastructure, putting an increased focus on healthcare and improvement of medical care quality. Last year Ilyich Iron and Steel Works provided support for capital repair and equipment of ambulatory clinic situated in Kirovskii residential area. In 2014 we decided to help another municipal area situated at a long distance from city polyclinics. The main thing is that it will be comfortable for people – no need to go to another part of the city to consult a doctor.
For editors:

PJSC "AZOVSTAL IRON & STEEL WORKS" is a modern high-technology enterprise manufacturing wide range of steel products: slabs, bars, shapes, railway rails, rail fasteners, square billets, plates and products of metallurgical slag. Production capacities of the enterprise allow to produce annually over 5.5 million tons of iron, over 6.2 million tons of steel (aim is to achieve 7 million tons of steel per year) and over 4.4 million tons of rolled products. Design capacities for rail fasteners production is 285 thousand tons per year, grinding balls 170 thousand tons per year.

PJSC «Ilyich Iron and Steel Works of Mariupol» is one of the greatest enterprises in Ukraine with full metallurgical cycle. The Works produces pipes and flat rolled products of carbon, low-alloy and alloy steels for different applications: hot-rolled plates and sheets intended for the production of pipes for main pipelines, ships, pressure vessels, bridge constructions, other metal constructions for critical application; hot-rolled plates, sheets and strips including pickled; cold-rolled, including galvanized bands, sheets and strips, including for cold stamping, flooring and others.

METINVEST is a vertically integrated mining and metallurgical group of companies that manages assets in each segment of production chain, from extraction of iron ore raw materials and coal, as well as coke production up to manufacture of steel semi-finished and finished products, pipes and coils and also manufacture of other high-value-added products. The Group incorporates mining and metallurgical enterprises located in Ukraine, Europe and USA and has sales network covering all global key markets. Metinvest Group incorporates Metallurgical and Mining Divisions. According to the strategic vision of Group it is aimed to become the leading European vertically integrated steel manufacturer with sustained growth and profitability, despite the cyclical nature of markets, and provide investment yield above the industry standards. For the first quarter of 2014 ended March, 31th, 2014, the Group reported revenues of US$2.9 billion and an EBITDA margin of 30%.

The key shareholders of METINVEST B.V. (Holding Company of Metinvest Group) are SCM Group (71.25%) and SMART Group (23.75%) that take part in the Group administration on a partnership basis.

"METINVEST HOLDING" LLC is the managing company of Metinvest Group.

For more information see www.metinvestholding.com