12 September 2014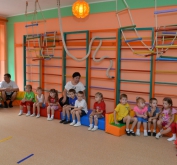 Within the project "City by Our Hands" sports hall in the kindergarten No. 110 "Svetlyachok" ("Firefly") was renovated at the expense of Metinvest and with support of the social union "Metinvest Green Centre".
A pitiful sight of the kindergarten sports hall was observed as early as last year: the slightest draft silted through the old window frames and rotten wood floors caved in under feet. In winter, the cold hindered children in attending the sports hall and conversely, in summer, it was hot and airless. Nowadays, the sport hall was changed beyond recognition - the builders made cement screed, daubed plaster and painted walls, replaced wiring and lighting fixtures, installed new windows and doors. And now little champions will gain health in the renovated and comfort hall. Here, there are new gym wall bars, soft modular equipment, as well as dry basins filled with plastic balls.

"It is great when kids are able to develop comprehensively, - noted Anna Gontareva, Head Mistress of the kindergarten No. 110. – Thanks to the social union "Metinvest Green Centre" that holds a perfect contest "City by Our Hands" our children will do sport in up-to-date, cheerful and warm sports hall. I have no words to express my gratitude for support of this very project. The new sports hall delights eyes of everybody - teachers, parents and, of course, kids".

As long as the renovation of the sports hall was in progress, the activists of "Green Center" got in order the kindergarten yard - cut down 29 damaged trees, mowed grass and collected garbage. In addition, they repaired hall, made floor cloth, as well as mounted and installed gym equipment.

Sergei Magera, coordinator of the social Union "Metinvest Green Centre" congratulated the kindergarten team with opening of the renovated sports hall. He wished success to teachers in education of the young generation of Mariupol citizens and promised to support their social initiatives in the future.

"This year, 14 social projects focused on the development of physical culture, sports and landscaping of Mariupol public areas became winners of the contest "The City by Our Hands". Metinvest Group allocated 700 thousand UAH for their implementation. The project on reconstruction of the sports hall in the kindergarten "Svetlyachok" ("Firefly") appeared thanks to the initiative of teachers and parents, who wanted to ensure comprehensive physical development of their kids, make them strong, hardy and cheerful. And we were happy to help them in this good work", emphasized Sergei Magera.

The staff of the kindergarten goes the extra mile and next year they are planning to participate again in the contest "City by Our Hands".
For editors:

PJSC "AZOVSTAL IRON & STEEL WORKS" is a modern high-technology enterprise manufacturing wide range of steel products: slabs, bars, shapes, railway rails, rail fasteners, square billets, plates and products of metallurgical slag. Production capacities of the enterprise allow to produce annually over 5.5 million tons of iron, over 6.2 million tons of steel (aim is to achieve 7 million tons of steel per year) and over 4.4 million tons of rolled products. Design capacities for rail fasteners production is 285 thousand tons per year, grinding balls 170 thousand tons per year.

PJSC "ILYICH IRON AND STEEL WORKS OF MARIUPOL" is one of the largest integrated enterprises in Ukraine. The enterprise produces pipes and flat rolled products of carbon, low-alloy and alloy steels for different applications: hot-rolled plates and sheets intended for manufacturing of pipes for main pipelines, ships, pressure vessels, bridge structures, other steel structures for critical application; hot-rolled plates, sheets and strips including pickled; cold-rolled, including galvanized bands, sheets and strips, including for cold stamping, flooring and others.

Metinvest is a vertically integrated mining and metallurgical group of companies that manages assets in each segment of production chain, from extraction of iron ore raw materials and coal, as well as coke production up to manufacture of steel semi-finished and finished products, pipes and coils and also manufacture of other high-value-added products. The Group incorporates mining and metallurgical enterprises located in Ukraine, Europe and USA and has sales network covering all global key markets. Metinvest Group incorporates Metallurgical and Mining Divisions. According to the strategic vision of Group it is aimed to become the leading European vertically integrated steel manufacturer with sustained growth and profitability, despite the cyclical nature of markets, and provide investment yield above the industry standards. For the first quarter of 2014, ending on 31 March 2014, the Group received a US $ 2.9 billion in revenue, EBITDA profitability was 30%.

The key shareholders of METINVEST B.V. (Holding Company of Metinvest Group) are SCM Group (71.25%) and Smart Holding (23.75%) that take part in the Group administration on a partnership basis.

"METINVEST HOLDING" LLC is the managing company of Metinvest Group.