27 August 2014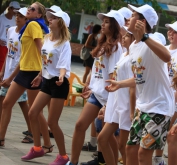 More than 18 thousand employees of Azovstal Iron & Steel Works and Ilyich Iron & Steel Works and Mariupol Mechanical Repair Plant of Metinvest together with their families and children took a rest in the best health-centers on the Azov Sea shore. For organization of summer health improvement of Mariupol steelmakers and maintenance personnel Metinvest Group allocated over 57 mln UAH - a quarter more than in 2013.
For the whole summer employees were welcomed at 12 health-centers, such as recreation centers "Metallurg", "Smena", "Volna", "Nadezhda", recreation camps "Vertical", "Aleksandria", "Azovye". Here, personal recreative program with preventive procedures was developed for each guest – health improvement of heart and vessels, respiratory, nervous, musculoskeletal systems.
Unforgettable summer holidays were also organized for the employees' children of Metinvest enterprises. More than 4 thousand children spent their holidays in health-centers "Alyye Parusa", "Raduzhny", "Solnechny" and "Severny". Hobby clubs, theatre schools and students activity centers worked, as well as archaeological expeditions and diverse festivals conducted. Traditionally, entertaining and educational program "Day with Metinvest" conducted at each shift. During quests children were able to learn a lot of new and interesting things about profession of the steelmaker, operation of the enterprises, in which their parents are working.
All health-centers and recreation camps were fully prepared for the start of the season. This year, health-centers "Alyie Parusa", "Solnechnyi", and "Severnyi" have been capitally repaired: the buildings and boiler houses have been renovated, internal utilities have been replaced, children's clubs and the performance stages have been put into order, new plants and flowers have reappeared around the pavilions. Health-center "Raduzhnyi", in its turn, has had a great renovation in its pavilions – installation of 62 plastic steel window frames.
Director General of Mariupol Ilyich Iron & Steel Works Yuri Zinchenko:
- This year, more than 14 thousand employees of Ilyich Iron & Steel Works with their families took a rest in the best health-centers. Special attention was given to the recreation of children – 3 thousand children with great pleasure spent their summer holidays on the Azov Sea shore. I am sure that both adults and children were pleased with the organization of the recreation. Health of the employees is the most valuable. Therefore, Works assistance in health improvement of the steelmakers' families and the employees themselves has become a good tradition that needs to be continued forever.
Director General of Azovstal Iron & Steel Works Enver Tskitishvili:
- Simple family values are very close to Metinvest Group. Summer is a great time for relaxation, gathering with family and energy renewal. This year, our enterprise made it possible for more than 2 thousand employees and 900 of their children to improve their health in the best health-centers of Priazovie. We spared no resources for our steelmakers to be able to enjoy the summer in our health-centers, and their children to be able to refresh themselves before school and improve their health.
Employee of Mariupol Ilyich Iron & Steel Works Nikolay Gavriliuk:
- In June, I spent a holiday with my wife in the village Shirokino (health-center "Aleksandriya"). We visit this recreation camp every year. We like cozy rooms, shady alleys and, of course, clean and warm sea. And this year recreation camp "Aleksandriya" got even better – now there is new furniture and household appliances. In general, we enjoy staying here even more. Next summer, I will obligatory take the voucher for the vocation at the "Aleksandriya". It is always very pleasant when the enterprise cares about health of the employees as our enterprise does. And now with renewed vigour I am ready to work.
Son of the employee of Azovstal Iron & Steel Works Denis Maltsev:
- I will never forget my holidays in health-center "Solnechnyi". At the very beginning I didn't want to go anywhere, I thought it would be boring. (it is prohibited to take computer with you). But in a few days I realized that I was wrong. It was really cool: every day our youth leaders made special contests for us, in a day we went to the sea shore and to the disco in the evening. I found a lot of friends. And also I liked entertaining and educational program "Day with Metinvest". Now I learned a lot of new and interesting things about profession of my father. It was very interesting!
Employee of Azovstal Iron & Steel Works Sergey Yurchenko:
- I was offered a voucher for recreation center "Volna". I would like to say that what I saw just shift my expectations – friendly staff, cozy rooms and new furniture. A recreation center yard was covered with rose bushes. Indescribable beauty. And, of course, the sea for which I was waiting for the summer holidays. Here it is much cleaner. Everything was very well organized. I liked this vacation. Certainly, I will try to come here next year.
For editors:

PJSC "AZOVSTAL IRON & STEEL WORKS" is a modern high-technology enterprise manufacturing wide range of steel products: slabs, bars, shapes, railroad rails, rail fasteners, square billets, plates and products of metallurgical slag.

Production capacities of "AZOVSTAL IRON & STEEL WORKS" allow to produce annually over 5.5 mln. t of iron, over 6.2 mln. t of steel (aim is to achieve 7 mln.t of steel per year) and over 4.4 mln. t of rolled products. Design capacities for rail fasteners production is 285 thou t per year, grinding balls 170 thou t per year.

PJSC «Ilyich Iron and Steel Works of Mariupol» is one of the greatest enterprises in Ukraine with full metallurgical cycle. The Works produces pipes and flat rolled products of carbon, low-alloy and alloy steels for different applications: hot-rolled plates and sheets intended for the production of pipes for main pipelines, ships, pressure vessels, bridge constructions, other metal constructions for critical application; hot-rolled plates, sheets and strips including pickled; cold-rolled, including galvanized, bands, sheets and strips, including for cold stamping, flooring and others.

METINVEST is an international vertical-integrated mining-and-metallurgical Group of companies, which runs assets in every link of production chain for creation of value from iron-ore and coal mining tol semi-finished and finished metal products manufacture. The structure of the Group comprises mining and metallurgical enterprises in Ukraine, Europe and USA, and sales network covering the key world markets. METINVEST GROUP consists of Metallurgical and Mining Divisions. According to the strategical vision of the Group its aim is to become lead European vertical-integrated steel producer with stable ratio of growth and cost effectiveness in spite of market cyclicity, and to ensure investment return higher than industrial standards. For the first quarter of 2014 ended 31 March 2014, the Group reported revenues of US$2.9 billion and an EBITDA margin of 30%.

The main shareholders of METINVEST B.V. company (Holding company of METINVEST GROUP) are SСM GROUP (71,25%) and SMART GROUP (23,75%), which control Group at partnership relations.

METINVEST HOLDING LLC is the managing company of METINVEST GROUP.

Further information is available via the web site www.metinvestholding.com