31 July 2014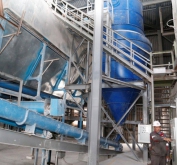 Ilyich Iron & Steel Works , Metinvest group has invested 1,3 mln. hryvna in order to improve the ecological operation factors at the limekiln department. A modern dust removal equipment has been installed on the conveyors № 16 , №17 of the Mertz furnace.
The majority of the personnel in the production area ,where the new aspiration system is running is represented by women who operate the conveyors and the maintenance personnel. The workers are happy with the current working conditions now considerably improved. The result of the reconstruction is significant reduction in limestone dust emissions .
The reliability of the equipment has been attested as well: the system is working in the automated mode and controlled by computers.
Yurii Zinchenko, General Director of Ilyich Iron and Steel Works:
- Our priority is to minimize harmful environmental effects connected with the steel making process . First of all , we are residents of Mariupol , the workers of our plant and their families live in this city. Therefore, everyone works double hard when involved in realization of an ecological project. We strive for clear sky over our city. The industry in the region is being affected by the current act of war . At the same time, Metinvest company is continuing to support all its social programs and to retain the company's staff. We keep on our modernization and implementation of ecological projects in the places of the company's presence.
For editors:

PJSC «Ilyich Iron and Steel Works of Mariupol» is one of the greatest enterprises in Ukraine with full metallurgical cycle. The Works produces pipes and flat rolled products of carbon, low-alloy and alloy steels for different applications: hot-rolled plates and sheets intended for the production of pipes for main pipelines, ships, pressure vessels, bridge constructions, other metal constructions for critical application; hot-rolled plates, sheets and strips including pickled; cold-rolled, including galvanized, bands, sheets and strips, including for cold stamping, flooring and others.

METINVEST is an international vertical-integrated mining-and-metallurgical Group of companies, which runs assets in every link of production chain for creation of value from iron-ore and coal mining tol semi-finished and finished metal products manufacture. The structure of the Group comprises mining and metallurgical enterprises in Ukraine, Europe and USA, and sales network covering the key world markets. METINVEST GROUP consists of Metallurgical and Mining Divisions. According to the strategical vision of the Group its aim is to become lead European vertical-integrated steel producer with stable ratio of growth and cost effectiveness in spite of market cyclicity, and to ensure investment return higher than industrial standards. For the first quarter of 2014 ended 31 March 2014, the Group reported revenues of US$2.9 billion and an EBITDA margin of 30%.

The main shareholders of METINVEST B.V. company (Holding company of METINVEST GROUP) are SСM GROUP (71,25%) and SMART GROUP (23,75%), which control Group at partnership relations.

METINVEST HOLDING LLC is the managing company of METINVEST GROUP