30 July 2014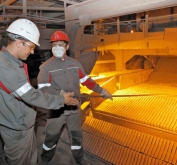 PJSC "Ilyich Iron and Steel Works of Mariupol" of Metinvest Group is proceeding with repairing the equipment at sinter factory and improving the systems of ecological security of the department. The sixth unit has been repaired along with agglomachine №12. The investments of the enterprise made up 20 million ghrivnas.
About 600 specialists took part in the capital overhaul. Due to well organized work the specialists managed to renovate machine during only 20 days. At the same time a year earlier such amount of work was done during one month.
There has been made a large-scale repair of the nature conservation equipment. Gas paths and 800 elements of cyclone cell system which clean waste gasses from harmful substances have been fully replaced. The reparation of the grate field will also allow sufficiently reduce the emissions into environment.
The reconstruction of the control panel and its automation has been done. Now the technological process of agglomerate baking is carried out with computers. The installation of modern burners on ignition furnace will reduce the consumption of natural gas on 10%.
The general director of PJSC "Ilyich Iron and Steel Works of Mariupol" Yurii Zinchenko:
- We have planned a very active repair campaign at sinter factory which we haven't made for a long time. In May we renovated agglomachine №12, now the sixth one, and in Autumn I hope we will rebuild the tenth agglomachine. During these three repairs we concentrate on ecology: we make the reparation and when it is necessary we make a total replacement and modernization of gas cleaning systems. Second task – make agglomachines more power efficient, reduce the consumption of energy resources. And a third task – modernize technological process, implement new computer control systems.
For editors:

PJSC «Ilyich Iron and Steel Works of Mariupol» is one of the greatest enterprises in Ukraine with full metallurgical cycle. The Works produces pipes and flat rolled products of carbon, low-alloy and alloy steels for different applications: hot-rolled plates and sheets intended for the production of pipes for main pipelines, ships, pressure vessels, bridge constructions, other metal constructions for critical application; hot-rolled plates, sheets and strips including pickled; cold-rolled, including galvanized, bands, sheets and strips, including for cold stamping, flooring and others.

METINVEST is an international vertical-integrated mining-and-metallurgical Group of companies, which runs assets in every link of production chain for creation of value from iron-ore and coal mining tol semi-finished and finished metal products manufacture. The structure of the Group comprises mining and metallurgical enterprises in Ukraine, Europe and USA, and sales network covering the key world markets. METINVEST GROUP consists of Metallurgical and Mining Divisions. According to the strategical vision of the Group its aim is to become lead European vertical-integrated steel producer with stable ratio of growth and cost effectiveness in spite of market cyclicity, and to ensure investment return higher than industrial standards. For the first quarter of 2014 ended 31 March 2014, the Group reported revenues of US$2.9 billion and an EBITDA margin of 30%.

The main shareholders of METINVEST B.V. company (Holding company of METINVEST GROUP) are SСM GROUP (71,25%) and SMART GROUP (23,75%), which control Group at partnership relations.

METINVEST HOLDING LLC is the managing company of METINVEST GROUP