11 July 2014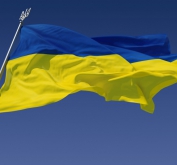 Young metallurgists who are employees of PJSC "AZOVSTAL IRON & STEEL WORKS" and PJSC "ILYICH IRON AND STEEL WORKS" have come to a decision to support this campaign actively and to implement any ideas that would manifest patriotic feelings of Mariupol citizens and their allegiance to the concept of Unitary Ukraine.
Even as we speak plenty of shops, production sites, administration and amenity facilities of the enterprises are being decorated with the national symbolic of Ukraine. As far back as May the Rail and Beam Shop workers of PJSC "AZOVSTAL IRON & STEEL WORKS" painted all the sections of roller tables on the Wagner machines, located in the rail finishing area, into yellow and blue colors. Moreover, national flags have just recently been installed in the very shop. The metallurgists of PJSC "ILYICH IRON AND STEEL WORKS" also share the same standpoint having attached Ukrainian flags over the blast furnaces.

"We suppose that on these turbulent days for Donbass the entire Mariupol should demonstrate practically that our destiny may be associated solely with the Unitary Ukraine", reckons Nikolay Trifonov, the Chairman of the Young Specialists Council (PJSC "AZOVSTAL IRON & STEEL WORKS"). "Dozens of our colleagues and friends approach us with a real firework of ideas and suggestions. The most frequently they propose to paint various municipal objects like bridges, roadside columns, fences and walls into the colors of national symbolic. Most people have a resolution to hang out the state flag on their personal balconies or from their own windows. We take into consideration and try to fulfill all those ideas. In the nearest future we have the intention to paint the Post-Bridge leading to the checkpoints of PJSC "AZOVSTAL IRON & STEEL WORKS" into the national colors. The only obstacle is that even now it is difficult to find such a big quantity of yellow and blue paints as well as so many Ukrainian flags in Mariupol."

Young employees of PJSC "ILYICH IRON AND STEEL WORKS" also decorate the shops of their enterprise with national flags and other items of Ukrainian symbolic and encourage all the Mariupol citizens to demonstrate patriotism. "We are going to hold several flash mobs of municipal scale, to assemble together patriotically-minded young people in order to make everybody see how numerous we are!" states Vasiliy Papush, the Chairman of Youth Organization (PJSC "ILYICH IRON AND STEEL WORKS"). "And we appeal to all the citizens of our city to hang out Ukrainian flags on their balconies, from windows, on their cars or over the entrances. We also address the municipal administration with an appeal to support this campaign and to attach items representing the Ukrainian symbolic to means of public transportation, over school buildings, hospitals and public utilities. We are asking Mariupol Mass Medias to assist in promulgation of our campaign "Mariupol is a part of Ukraine". Actually we tend not to suspend it unless the war ends and sustainable peace is reestablished".

CEOs of PJSC "AZOVSTAL IRON & STEEL WORKS" and PJSC "ILYICH IRON AND STEEL WORKS" Yuri Zinchenko and Enver Tskitishvili immediately gave a boost to the patriotic inspiration of young metallurgists.

For editors:

PJSC "AZOVSTAL IRON & STEEL WORKS" is a modern high-technology enterprise manufacturing wide range of steel products: slabs, bars, shapes, railway rails, rail fasteners, square billets, plates and products of metallurgical slag.

Production capacities of the enterprise allow to produce annually over 5.5 million tons of iron, over 6.2 million tons of steel (aim is to achieve 7 million tons of steel per year) and over 4.4 million tons of rolled products. Design capacities for rail fasteners production is 285 thousand tons per year, grinding balls 170 thousand tons per year.

Metinvest is a vertically integrated mining and metallurgical group of companies that manages assets in each segment of production chain, from extraction of iron ore raw materials and coal, as well as coke production up to manufacture of steel semi-finished and finished products, pipes and coils and also manufacture of other high-value-added products. The Group incorporates mining and metallurgical enterprises located in Ukraine, Europe and USA and has sales network covering all global key markets. Metinvest Group incorporates Metallurgical and Mining Divisions. According to the strategic vision of Group it is aimed to become the leading European vertically integrated steel manufacturer with sustained growth and profitability, despite the cyclical nature of markets, and provide investment yield above the industry standards. For the first three months ended on March 31, 2014, the Group received a US $ 2.9 billion in revenue, EBITDA profitability was 30%.

The key shareholders of METINVEST B.V. (Holding Company of Metinvest Group) are SCM Group (71.25%) and SMART Group (23.75%) that take part in the Group administration on a partnership basis.

"METINVEST HOLDING" LLC is the managing company of Metinvest Group.