11 July 2014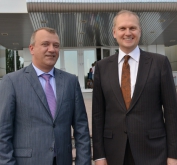 Employees of PJSC "ILYICH IRON AND STEEL WORKS" and PJSC "AZOVSTAL IRON & STEEL WORKS" (Metinvest Group) together with the police have been keeping day-and-night watch for two months maintaining order in Mariupol streets. And for those people's guards thanks to whom local citizens could come back to normal life an official ceremony was held in Metallurgists' Palace.
Every day about 160 metallurgists go out for patrolling of the city. Mariupol citizens have supported the initiative of metallurgists with enthusiasm – more than 40 thousand local citizens have already signed up for people's guard. Their civil achievement is certainly worth of emulation and respect, so their honoring assembled more than 800 people's guards, policemen and local citizens in Metallurgists' Palace. Moreover, even during the ceremony several people's guards continued to assist the police officers in securing order in the city.

A plenty of cordial words were directed at the address of metallurgists and policemen of Mariupol from the stage of Palace of Culture. A lot of speeches were delivered by ordinary people among whom we can mention workers of culture, education, activists of social organizations and committees of public self-organization. Everybody was grateful for peace, order, sense of sympathy and not at least for quiet sleep without any medicines. Local citizens are absolutely sure that mainly thanks to the simple and decisive actions of the working personnel of both metallurgical enterprises Mariupol survived from destruction and chaos.

"At the beginning of May we were simply afraid of going outside", remembers the Chairman of the Public Rescue Committee "Azovstalsky" Valentina Pakhomova. "I am thankful indeed to metallurgists for the fact that we see peaceful skies over us at the moment. There are children playing at the playgrounds, mothers are walking carelessly around with their baby-carriages. Fear has disappeared and peace has reappeared. And this is the most important and valuable thing. You are our saviors!"

"The tradition of people's guards is long-standing and very positive. We are committed to help our police officers. In the past everybody understood this. We are so grateful that metallurgists have restored the tradition of people's guards. The entire city observed its consequences. I am trembling all over watching news from other cities of Donbass – we could have a similar situation here in Mariupol. But people's guards and the police did not allow this to happen. Well done! People's guards managed to maintain our security even without any battalions", told us a pensioner Liliya Voronova.

"When I got to know about the organization of people's guards, I was greatly astonished at their courage and I was really proud of the metallurgists. The employees of our enterprises decided to go out for patrolling at those horrible and troubled moments without any arms upon their own initiative. It is great that in my native town there are such courageous people who are so strong in spirit. Their example inspired me to become a people's guard too. Ultimately, merely local citizens are interested in peace and prosperity of Mariupol, but not newcomers from other regions no matter where they come from, Donetsk region or Dnepropetrovsk region. Exactly we together with our police and people's guards should take control over the situation on our own", reckons one of inhabitants.
Police officers acknowledge that without support of the metallurgical enterprises they would not probably succeed in getting through the revelry of banditism.

"When the Mariupol police station faced quite complicated moments, the assistance of PJSC "ILYICH IRON AND STEEL WORKS" and PJSC "AZOVSTAL IRON & STEEL WORKS" employees constituted a significant contribution to securing law and order", tells the acting Head of the Main Department of Mariupol Police Oleg Morgun. "We are grateful to them for clear understanding of the situation, for prompt decisions that helped to restore stability in Mariupol and to recover peace and order in the city streets. Since the middle of May from day to day the employees of the enterprises along with police officers go on patrolling and fulfill their responsibilities of people's guards. Together we achieved reduction of crime rate and increase of the number of hotfoot revealing, we also enhanced preventive measures on law violations. Especially I am thankful to the enterprises of Metinvest Group for the assistance in restoration of financial and logistical support to the police. Such a tandem of police and industrial workers means stability and prosperity to our native town".

The Top Management of the enterprises thanked working personnel for their active civil position and handed out encouraging awards to people's guards and police officers.

Director General of PJSC "ILYICH IRON & STEEL WORKS" Yuri Zinchenko:
- Our people's guards were not afraid of coming and helping the police at such dangerous and frightening moments. And now we see that peace and order predominate in our city. At the present people possess such a fighting spirit that no armed terrorist will ever step into our city. We have the intention to support the wonderful initiative of people's guards and to demonstrate it to the entire Donbass. We managed to prove that the power of words and the voice of patriotism sound much more loudly than the sounds of main guns and bombs. And Mariupol is a bright example of this. Since the very beginning the stockholder of SCM Rinat Akhmetov, the CEOs of Metinvest and the enterprises have kept on saying that only the power of words and the unity of citizens can bring peace into our cities. Today a lot of people tend to criticize us for the fact that our enterprises generate alarm at midday. However, we produced alarms, we alarm now and we will give alarms until peace and order predominate in the whole Donbass region.

Director General of PJSC "AZOVSTAL IRON & STEEL WORKS" Enver Tskitishvili:
- Recently in our country a difficult situation has been developed. At every our meeting I said, and I will repeat to you that our main task - to preserve peace and stability. And we were able to do this thanks to you. Owing to your timely respond to the call for creation people's guards, go outside and return order to the city. This allowed us to avoid the fate of Slavyansk and Kramatorsk. Collectives of two enterprises and citizens of Mariupol have unified their efforts. New generation will grow up and our children and grandchildren will be proud of the fact that we helped our city to survive. We want every people in Ukraine to know that the owners of the city are its citizens. We on our own together with the police can establish order in our cities without private battalions armed to the teeth and subordinated to unknown persons.

Despite the absence of weapon people's guards succeed in preventing various offenses and even solve crimes in hot pursuit. The merits of two people's guards were especially highlighted. Rodion Monastic, the employee of Ilyich I&SW, helped to apprehend an armed criminal who had with him not only a gun, but also drugs. Nikolai Antonov, the employee of "Azovstal", perfectly manifested himself during the arrest of a robber, together with police help.

Vasiliy Samokhin, a fitter-engineer who works in one of the "Azovstal" shops and for the last two months became people's guards is sure that patriotism should be measured not in words but in actions, "Mariupol is my home city and I don't want any combat actions as well as people running with weapons in the city. I just want peace for my family. We, Azovstal people, are tired of suffering from riotous behavior bandits. It was a positive thing that CEOs have become our like-minded persons. We had to save Mariupol and together we managed to solve the task. Now citizens of Mariupol are working quietly, sunbathing on the beach with the kids and do not think about how to escape from the bullets."

"Senior management clearly said to us: everything is voluntarily. If there is a desire, then put down your name on the list of people's guards. But I and my comrades no doubt immediately decided to sign in on the first day. We all have families. It is necessary to feed them, to work and to live in peace but not to start war. And we had to help police. I believe we succeeded without exterior help. At the present Mariupol is used as an example for the whole Donbass. And that is as it should be. Let them go using our way, and then we will have peace"- said Konstantin Kizaev, the conveyer operator of Blast Furnace Shop, Ilyich I&SW.

"I believe that we do not need any armed forces from either side. That is the position of the mainstream population of our city, collective position is our unique position which states that we can ensure order in our city under the law - with the help of the police and our voluntary peoples guards", - says Sergey Vovk, Deputy Head of Rail and Structural Mill, "Azovstal".

Significant holiday for people's guards had symbolic end. Mariupol children with yellow and blue air balloons joyfully sang the song "Let there always be sunshine." Moreover the kids said thankful words to the metallurgists and to all active citizens-volunteers of the city.
For editors:

PJSC "AZOVSTAL IRON & STEEL WORKS" is a modern high-technology enterprise manufacturing wide range of steel products: slabs, bars, shapes, railway rails, rail fasteners, square billets, plates and products of metallurgical slag.

Production capacities of the enterprise allow to produce annually over 5.5 million tons of iron, over 6.2 million tons of steel (aim is to achieve 7 million tons of steel per year) and over 4.4 million tons of rolled products. Design capacities for rail fasteners production is 285 thousand tons per year, grinding balls 170 thousand tons per year.

PJSC «Ilyich Iron and Steel Works of Mariupol» is one of the greatest enterprises in Ukraine with full metallurgical cycle. The Works produces pipes and flat rolled products of carbon, low-alloy and alloy steels for different applications: hot-rolled plates and sheets intended for the production of pipes for main pipelines, ships, pressure vessels, bridge constructions, other metal constructions for critical application; hot-rolled plates, sheets and strips including pickled; cold-rolled, including galvanized, bands, sheets and strips, including for cold stamping, flooring and others.

Metinvest is a vertically integrated mining and metallurgical group of companies that manages assets in each segment of production chain, from extraction of iron ore raw materials and coal, as well as coke production up to manufacture of steel semi-finished and finished products, pipes and coils and also manufacture of other high-value-added products. The Group incorporates mining and metallurgical enterprises located in Ukraine, Europe and USA and has sales network covering all global key markets. Metinvest Group incorporates Metallurgical and Mining Divisions. According to the strategic vision of Group it is aimed to become the leading European vertically integrated steel manufacturer with sustained growth and profitability, despite the cyclical nature of markets, and provide investment yield above the industry standards. For the first quarter of 2014 ended 31 March 2014, the Group reported revenues of US$2.9 billion and an EBITDA margin of 30%.

The key shareholders of METINVEST B.V. (Holding Company of Metinvest Group) are SCM Group (71.25%) and SMART Group (23.75%) that take part in the Group administration on a partnership basis.

"METINVEST HOLDING" LLC is the managing company of Metinvest Group.