24 June 2014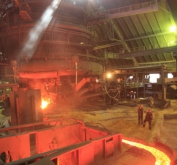 The plant's largest blast furnace № 5 of 2300 m3 effective capacity is in operation after it's basic repair has completed at Ilyich Iron & Steel Works of Mariupol, Metinvest group. In all-time period, the unit's ecological equipment has been updated, accompanied with the replacement of the charging equipment and stack lining by advanced method. Investments amounted to over UAH 20 mln.
The repair involved a number of environmental measures which included refreshment of the aspiration system in the stock house, sinter and coke separators and the conveyors "1200" and "1800".

Now, the furnace is back in operation and its emissions to the atmosphere are reduced significantly.

The new charging equipment was manufactured by Mariupol repair and engineering works. The specialists of this plant performed installation and alignment of the equipment.

The shotcreting technology, implemented during the repair works, provides protection against cracks for the furnace's stack armoring, increased overhaul life and reduced repair cost. Silicon carbide based refractory concrete (spraycast) was applied on to the stack lining with the use of compressed air.

The spraycast is characterized with its remarkable physical properties and is much more resistant to the charge mixture compared with conventional refractory lining. Therewith, shotcreting may be done within three days whereas the lining with refractory materials will take one month or so.

This advanced technology was used twice in the blast furnace plant in 2012. Shotcreting on the furnaces №3 and № 4 has led to reduced coke consumption per ton of pig iron.

Mr. Yurii Zinchenko, General Director of Ilyich Iron and Steel Works:
- Our steelmakers are facing the challenge now present in the country and in the Donbass region. Nevertheless, we keep on making steel, providing people with work and salaries. We continue renovation of production facilities according to our program. All expenses related to the blast furnace №5 are economically sound and will be paid off shortly. The progressive shotcreting technology significantly improves the furnace's stack allows to extend the unit's overhaul life considerably.
Справка

PJSC «Ilyich Iron and Steel Works of Mariupol» is one of the greatest enterprises in Ukraine with full metallurgical cycle. The Works produces pipes and flat rolled products of carbon, low-alloy and alloy steels for different applications: hot-rolled plates and sheets intended for the production of pipes for main pipelines, ships, pressure vessels, bridge constructions, other metal constructions for critical application; hot-rolled plates, sheets and strips including pickled; cold-rolled, including galvanized, bands, sheets and strips, including for cold stamping, flooring and others.

METINVEST is an international vertical-integrated mining-and-metallurgical Group of companies, which runs assets in every link of production chain for creation of value from iron-ore and coal mining tol semi-finished and finished metal products manufacture. The structure of the Group comprises mining and metallurgical enterprises in Ukraine, Europe and USA, and sales network covering the key world markets. METINVEST GROUP consists of Metallurgical and Mining Divisions. According to the strategical vision of the Group its aim is to become lead European vertical-integrated steel producer with stable ratio of growth and cost effectiveness in spite of market cyclicity, and to ensure investment return higher than industrial standards. In a period of the nine months before 30th of September 2013 the Group has received US$9,8 milliards of sale proceeds, cost effectiveness by EBITDA was 18%.

The main shareholders of METINVEST B.V. company (Holding company of METINVEST GROUP) are SСM GROUP (71,25%) and SMART GROUP (23,75%), which control Group at partnership relations.

METINVEST HOLDING LLC is the managing company of METINVEST GROUP.