13 May 2014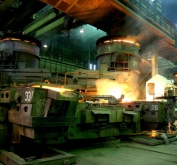 Current modernization of the production process at Ilyich Iron and Steel Works involved modernization of continuous casting machine (CCM-2). The whole repair cost is around UAH 2 mln. The unit has been subject to planned renovation and implementation of new technologies makes possible to increase the overhaul period twofold.
Improved reliability of the CCM and the increase of the overhaul period were achieved due to use of corrosion resistance support structures, extended roll rigidity as well as to amendments made in the water decontamination system for cooling hot steel.
The repair involved replacement of worn parts, modernization of some parts, inspection and repair of mechanical, electrical and power equipment, whereas new technologies were used for fine adjustment of the gears and axes of the unit – all measurements were made using an electronic tacheometer.
The CCM No 2 was put into operation in 1993 and its production capacity is over 3500 t of slab ingots of high quality per day. With the project annual capacity of 750 000 t the unit's production rate has been increased to 1 mln t. and over.
"The steel plant strengthened its capability to resist negative trends in economy and the steel industry after integration into Metinvest Group. Earlier, in 2008, most of the investment projects have been frozen. Today, being a part of Metinvest Group, we can be sure in steady operation and further development of the steel plant. Currently, Ilyich Steel Works implements various projects related to modernization of production, ecology and advancement of Mariupol. And these priorities are steady-going", – Yurii Zinchenko, General Director of Ilyich Iron and Steel Works said.
For editors:

PJSC «Ilyich Iron and Steel Works of Mariupol» is one of the greatest enterprises in Ukraine with full metallurgical cycle. The Works produces pipes and flat rolled products of carbon, low-alloy and alloy steels for different applications: hot-rolled plates and sheets intended for the production of pipes for main pipelines, ships, pressure vessels, bridge constructions, other metal constructions for critical application; hot-rolled plates, sheets and strips including pickled; cold-rolled, including galvanized, bands, sheets and strips, including for cold stamping, flooring and others.

METINVEST is an international vertical-integrated mining-and-metallurgical Group of companies, which runs assets in every link of production chain for creation of value from iron-ore and coal mining tol semi-finished and finished metal products manufacture. The structure of the Group comprises mining and metallurgical enterprises in Ukraine, Europe and USA, and sales network covering the key world markets. METINVEST GROUP consists of Metallurgical and Mining Divisions. According to the strategical vision of the Group its aim is to become lead European vertical-integrated steel producer with stable ratio of growth and cost effectiveness in spite of market cyclicity, and to ensure investment return higher than industrial standards. In a period of the nine months before 30th of September 2013 the Group has received US$9,8 milliards of sale proceeds, cost effectiveness by EBITDA was 18%.

The main shareholders of METINVEST B.V. company (Holding company of METINVEST GROUP) are SСM GROUP (71,25%) and SMART GROUP (23,75%), which control Group at partnership relations.

METINVEST HOLDING LLC is the managing company of METINVEST GROUP.