12 May 2014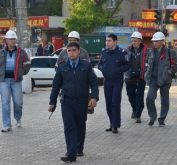 More than 130 employees of Metinvest's Ilyich Iron and Steel Works of Mariupol and Azovstal Iron and Steel Works joined law enforcement officers to patrol the streets of Mariupol on the night of May 11. Voluntary patrols made up of steelworkers helped maintain public order in four districts of the city. No major incidents, robberies or looting were reported on the first night of the patrols. One attempted store break-in was prevented.
Workers participating in patrols are wearing corporate work clothes and helmets. They are also provided with first-aid kits and flashlights. The patrols prevented several violations of public order. Volunteers and law enforcement officers stopped a drunken fight caused by political differences in Illichevsky district near the city administration building.
Three men who attempted to rob a 24/7 retail kiosk at the public transport stop on Levchenko Street left the crime scene after they noticed the patrol.
One of patrols in Ordzhonikidzevsky district assisted in putting down a fire at the warehouse of the Brusnichka retail chain. On several occasions, the patrols talked to young people about alcohol consumption in public places.
The steelworkers will continue patrolling the streets of Mariupol. 122 people went out on patrol during the day on May 12.
Enver Tskitishvili, general director of Azovstal:
"Today, many employees of our steelmaking enterprises are eager to patrol the streets of our city. Although their motivation may be different, they are united by a common desire to guard their families and hometown against bandits. They have already achieved some success. Mariupol residents are supportive of the patrols. They are not aggressive at all. On the contrary, people are willing to help and ask if they can join the patrols. It is encouraging and quite reassuring to see people respond this way."
Yuriy Zinchenko, general director of Ilyich Iron & Steel Works of Mariupol:
"We have already seen the local community respond positively to our initiative in Mariupol. As soon as they become aware of the patrols, local residents are expressing their support. Many people say they hope the steelworkers can put an end to the looting and disorder. Of course, it is still early to say that the situation has stabilized completely. The patrols have just started to help maintain public order. I am sure that eventually they will prove effective."