6 May 2014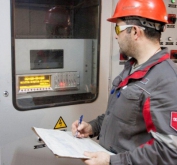 PJSC "Ilyich Iron and Steel Works of Mariupol" has become the winner of the labor protection and production safety competition in Mariupol.
More than 80 Mariupol enterprises and organizations took part in the competitions in 9 nominations: "Metallurgy production", "Mechanical Engineering", "Construction", "Municipal Engineering", "Light and food industry", "Transport and communications", "Health protection", "Education" and "Culture".
As a result Ilyich Works won the first place in it's main nomination.
Among city medical organizations the leader in health protection has become Ilyich medical-diagnostic centre, which also won the first place.
"The silver prize winner in the "Culture nomination" has become an administrative-business centre of the enterprise – here the children of Ilyich district and from the whole city come to develop their talents. Ilyich transport management and mechanization department got "bronze".
"Last year the Works sent more than 138 million hryvnas on the measures realization aimed at the decrease in production traumatism and provision of high standards in labor protection sphere. Besides near 12 thousands Ilyich Workers became the participants of seminars, trainings, and followed the courses connected with labor protection and production security. We develop a modern socially oriented company. It goes without saying that health and lives of our workers are among main priorities"– said the general manager of PJSC "Ilyich Iron and Steel Works of Mariupol" Yurii Zinchenko.
For editors:

PJSC «Ilyich Iron and Steel Works of Mariupol» is one of the greatest enterprises in Ukraine with full metallurgical cycle. The Works produces pipes and flat rolled products of carbon, low-alloy and alloy steels for different applications: hot-rolled plates and sheets intended for the production of pipes for main pipelines, ships, pressure vessels, bridge constructions, other metal constructions for critical application; hot-rolled plates, sheets and strips including pickled; cold-rolled, including galvanized, bands, sheets and strips, including for cold stamping, flooring and others.

METINVEST is an international vertical-integrated mining-and-metallurgical Group of companies, which runs assets in every link of production chain for creation of value from iron-ore and coal mining tol semi-finished and finished metal products manufacture. The structure of the Group comprises mining and metallurgical enterprises in Ukraine, Europe and USA, and sales network covering the key world markets. METINVEST GROUP consists of Metallurgical and Mining Divisions. According to the strategical vision of the Group its aim is to become lead European vertical-integrated steel producer with stable ratio of growth and cost effectiveness in spite of market cyclicity, and to ensure investment return higher than industrial standards. In a period of the nine months before 30th of September 2013 the Group has received US$9,8 milliards of sale proceeds, cost effectiveness by EBITDA was 18%.

The main shareholders of METINVEST B.V. company (Holding company of METINVEST GROUP) are SСM GROUP (71,25%) and SMART GROUP (23,75%), which control Group at partnership relations.

METINVEST HOLDING LLC is the managing company of METINVEST GROUP.

Further information is available via the web site www.metinvestholding.com