4 April 2014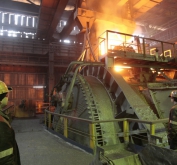 The mixer №1 was stopped for overhaul at Open-Hearth Shop of "Ilyich Iron & Steel Works of Mariupol" of Metinvest Group. The enterprise invests over 5 million hryvnas for scheduled assembly unit upgrading.
Mixer provides the uniformity of cast iron chemical composition and temperature transmitted then in open-hearth furnace. Scheduled mixer repair is performed once in three years for to provide continuous operation of all Open-Hearth Shop.
About one hundred employees are involved at the project today. In plans of repair personnel – lining renewal, metal construction inspection, weighing and electric equipments examinations, upgrading other mechanical equipment. Mixer repair was started at Open-Hearth Shop on March, 21 and it is planned to complete all works in 30 days.
The general director of "Ilyich Iron & Steel Works of Mariupol", Yurij Zinchenko:
"We understand that the works future depends on converter steel. This is more effective and environment-friendly production. Today we prepare the project of scale reconstruction of BOF that in prospect will give the power efficiency improvement of the enterprise, products quality improvement and decrease in emissions. Reconstruction will allow refusing the open-hearth process of steel production which is outdated. But the shop is in operation now and makes a contribution to common cause, and we intend to continue to upgrade the open-hearth shop facilities not only manufacturing but also environmental".
For editors:

PJSC «Ilyich Iron and Steel Works of Mariupol» is one of the greatest enterprises in Ukraine with full metallurgical cycle. The Works produces pipes and flat rolled products of carbon, low-alloy and alloy steels for different applications: hot-rolled plates and sheets intended for the production of pipes for main pipelines, ships, pressure vessels, bridge constructions, other metal constructions for critical application; hot-rolled plates, sheets and strips including pickled; cold-rolled, including galvanized, bands, sheets and strips, including for cold stamping, flooring and others.

METINVEST is an international vertical-integrated mining-and-metallurgical Group of companies, which runs assets in every link of production chain for creation of value from iron-ore and coal mining tol semi-finished and finished metal products manufacture. The structure of the Group comprises mining and metallurgical enterprises in Ukraine, Europe and USA, and sales network covering the key world markets. METINVEST GROUP consists of Metallurgical and Mining Divisions. According to the strategical vision of the Group its aim is to become lead European vertical-integrated steel producer with stable ratio of growth and cost effectiveness in spite of market cyclicity, and to ensure investment return higher than industrial standards. In a period of the nine months before 30th of September 2013 the Group has received US$9,8 milliards of sale proceeds, cost effectiveness by EBITDA was 18%.

The main shareholders of METINVEST B.V. company (Holding company of METINVEST GROUP) are SСM GROUP (71,25%) and SMART GROUP (23,75%), which control Group at partnership relations.

METINVEST HOLDING LLC is the managing company of METINVEST GROUP.