25 March 2014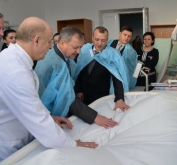 Metinvest Group's investments in Mariupol's health care system was more than UAH 14 million in 2010-2013. This included repairing hospitals and opening a clinic. Support for the medical sphere will continue in 2014.
Metinvest Group has been helping to improve the quality of medical service in Mariupol. A new clinic was recently opened in the city. This made medical service even more available to Mariupol's 10,000 residents. In 2013, Ilyich Iron & Steel Works of Mariupol sponsored capital repairs to the surgical unit of City Hospital #1. Azovstal fully financed the remodelling of the therapeutic unit of City Hospital #4 and the only endocrinological ward in Mariupol. Modern technologies were used to perform the works: indoor rooms and external facades were plastered and painted, and heating and water supply systems and canalization were replaced. Reinforced plastic windows were installed in patient rooms.
The metallurgical enterprises have sponsored repairs in 16 hospitals, clinics and maternity homes in Mariupol since 2011.
Ilyich Iron & Steel Works of Mariupol supplies oxygen to all city hospitals every year, and will do so again in 2014. Azovstal continues to remodel City Hospital #4; it has allocated more than UAH 2.2 million for capital repairs to the surgical building. Two more clinics will be opened in Mariupol on Kurchatova and Grecheskaya streets.
Metinvest Group has been supporting medical institutions in Mariupol since 2006. Since then, 75% of the buildings of City Hospital #4 have been repaired, including the infectious disease wards for children and adults, the clinic, laboratory, surgical ward, admission ward, emergency care center, x-ray department and surgical building. The effectiveness of medical treatment in the renovated buildings improved by 25%.
Enver Tskitishvili, general director of Azovstal:
"We have been providing substantial assistance to Hospital #4 since 2006 by renovating its old buildings. The units and equipment were in poor shape and we have been able to completely change the situation. It took seven years and UAH 11.5 million to almost completely renovate the hospital. In the next year or two, all of the hospital's buildings and wards will be brought to modern medical standards. We plan to allocate another UAH 2.8 million to do this in 2014."
Yuriy Zinchenko, general director of Ilyich Iron & Steel Works of Mariupol:
"Long-term cooperation between Ilyich Iron & Steel Works of Mariupol and the city's medical institutions has been a prerequisite for their stable work. As a socially responsible enterprise that values human life, we recommit our cooperation to the city and make contributions to the development of its health care system. We will continue investing in the development of quality medicine. Two clinics on Kurchatova and Grecheskaya streets will be opened in Mariupol in 2014. These medical institutions alone will receive more than UAH 2 million from the plant. Our goal is to make medical services modern and available to all people in Mariupol."
For editors:

PJSC "AZOVSTAL IRON & STEEL WORKS" is an up-to-date high-technology enterprise which produces a wide range of steel products such as: slabs, sections and shapes, rails, rail fastenings, square billets, heavy plates, and smelter slag products.

Production capacity of the Enterprise makes it possible to manufacture annually over 5,5 million tons of pig iron, over 6,2 million tons of steel (the target is to achieve 7 million tons of steel per year), over 4,4 million tons of rolled products. Design capacity of rail fastenings manufacture is 285 thousand tons per year and that of steel milling balls manufacture is 170 thousand tons per year.

PJSC "Ilyich Iron and Steel Works of Mariupol" is one of the largest integrated steelmaking enterprises of Ukraine. The enterprise produces flat rolled products and pipes made of carbon, low-alloy and alloy steel for various purposes: hot rolled plates and heavy plates for line pipe manufacturing, shipbuilding, pressure vessels, bridge constructions and other high-duty constructions; hot rolled plates and sheets, incl. pickled rolled products; cold rolled incl. galvanized band, sheet and strip steel, incl. intended for cold forming, manufacture of profiled sheeting, etc.

Metinvest is a vertically integrated mining group of companies, operating the assets in each sector of the production cycle beginning with iron ore and coal mining and coke production up to the manufacture of steel semi-products and finished products, pipes and coils as well as production of other products with high value added. The Group consists of mining and steel works situated in Ukraine, Europe, and the USA and has a chain of sales covering the key world markets. The chief stockholders of Metinvest are SKM Group (71,25%) and Smart-Holding (23,75%) which jointly run the Company.

METINVEST HOLDING LLC – the holding company of Metinvest Group.