25 March 2014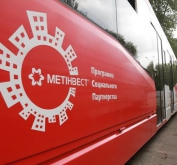 Metinvest Group will help solve transportation issues in Mariupol after Mariupol Mayor Yuriy Khotlubey talked to the Company's management.
UAH 8 million will be allocated to purchase new buses to transport passengers between the Left Bank and Ilyichevsky districts. According to experts, this route should have about 20 buses that run every 5-10 minutes. However, today only 4-5 buses serve this route, three of which are provided by Ilyich Iron and Steel Works of Mariupol to take employees to work.
Given the importance of the issue to the community, Metinvest Group decided to increase its planned budget for social partnership projects. The UAH 8 million to purchase the buses will be provided on top of the UAH 23 million.
Yuriy Ryzhenkov, Chief Executive Officer of Metinvest Group:
"I want to thank the city council and the community of Mariupol for their cooperation. I would like to give special credit to City Mayor Yuriy Khotlubey for the great effort he puts into our partnership projects. Together, we participate in city clean-up days and cleaned snow recently. We quickly responded to a request from the mayor last year and allocated about UAH 800,000 to repair roads. Another challenge Mariupol faces is traffic between the left and right banks. We will provide an additional UAH 8 million to purchase buses to improve transportation on these routes."
For editors:

PJSC "AZOVSTAL IRON & STEEL WORKS" is an up-to-date high-technology enterprise which produces a wide range of steel products such as: slabs, sections and shapes, rails, rail fastenings, square billets, heavy plates, and smelter slag products.

Production capacity of the Enterprise makes it possible to manufacture annually over 5,5 million tons of pig iron, over 6,2 million tons of steel (the target is to achieve 7 million tons of steel per year), over 4,4 million tons of rolled products. Design capacity of rail fastenings manufacture is 285 thousand tons per year and that of steel milling balls manufacture is 170 thousand tons per year.

PJSC "Ilyich Iron and Steel Works of Mariupol" is one of the largest integrated steelmaking enterprises of Ukraine. The enterprise produces flat rolled products and pipes made of carbon, low-alloy and alloy steel for various purposes: hot rolled plates and heavy plates for line pipe manufacturing, shipbuilding, pressure vessels, bridge constructions and other high-duty constructions; hot rolled plates and sheets, incl. pickled rolled products; cold rolled incl. galvanized band, sheet and strip steel, incl. intended for cold forming, manufacture of profiled sheeting, etc.

Metinvest is a vertically integrated mining group of companies, operating the assets in each sector of the production cycle beginning with iron ore and coal mining and coke production up to the manufacture of steel semi-products and finished products, pipes and coils as well as production of other products with high value added. The Group consists of mining and steel works situated in Ukraine, Europe, and the USA and has a chain of sales covering the key world markets. The chief stockholders of Metinvest are SKM Group (71,25%) and Smart-Holding (23,75%) which jointly run the Company.

METINVEST HOLDING LLC – the holding company of Metinvest Group.