24 March 2014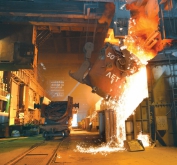 The Converter Plant of Ilyich Iron and Steel Works of Metinvest Group has performed a jubilee melting of steel to celebrate 50 years anniversary of its commissioning.
On March 18, 1964 Ilyich Converter Plant produced its first tones of cast steel. Since then, the workers of the Plant have performed over 940 000 melting operations. With the initial project capacity of 2,7 mln tpy, the actual output reached 3,8 mln.tpy.
Productivity of all continuous casting machines increased as well- from 750 000 t up to 1 260 000 t per each unit. The blowers have melted 128 mln.tn of steel to date.
During the solemn meeting, which followed the jubilee melting, the plant veterans watched a documentary film which demonstrated the history of the converter plant's generation and development. The workers who operate the casting machines today, in a warm, friendly atmosphere communed with the veterans who dedicated best years of their lives to fire profession. After the meeting the veterans were presented with souvenirs.
Upon inclusion of Ilyich Iron and Steel Works into the Metinvest Group, the converter plant entered its new phase of development with multi-million investments being spent for updating of equipment and modernization of the production process. In 2012 modernization of production costs reached abt. UAH 70 mln. In 2013 extensive repairs were performed on the converter furnace № 2, the mixer № 4 and the continuous casting machines №1 and №3. The complete renovation of the converter №3 which took only 43 days was the main event of the last year.
"The converter plant is the leading unit of Ilyich Iron and Steel Works. High quality of the product is recognized worldwide – the converter steel has been certified by notorious international certification centers. The converter plant is the key point in our program of modernization and updating of Ilyich Iron and Steel Works' production capacity. Further updating of the production process and modernization of equipment in the converter plant will continue. This will allow us to quit now outdated open-hearth steel making process," – said Yurij Zinchenko, General Director of PJSC "Ilyich Iron and Steel Works of Mariupol".
For editors:

PUBLIC JOINT STOCK COMPANY "ILYICH IRON AND STEEL WORKS OF MARIUPOL" is one of the largest enterprises with full metallurgical cycle in Ukraine. The Works produces flat rolled products and tubes of carbon, low-alloy and alloy steels for various applications: hot-rolled plates intended for manufacturing of pipes for transfer pipelines, ships, pressure vessels, bridge constructions and other high-duty metal structures; hot-rolled plates, sheets and strips, including pickled; cold-rolled, including galvanized, sheets, strips and bands, including for cold forming, shaped flooring, etc.

METINVEST GROUP is a vertically integrated steel and mining group of companies that manages every link of the value chain, from mining and processing iron ore and coal to making and selling semi-finished and finished steel products. It comprises steel and mining production facilities located in Ukraine, Europe and the US, as well as a sales network covering all key global markets. The Group is structured into two operating divisions, Metallurgical and Mining, and its strategic vision is to become the leading vertically integrated steel producer in Europe, delivering sustainable growth and profitability resilient to business cycles and providing investors with returns above the industry benchmarks. For 9 months ended 30 September 2013, the Group reported revenues of US$9.8 billion and an EBITDA margin of 18%.

The major shareholders of METINVEST B.V. (the holding company of Metinvest Group) are SCM Group (71.25%) and SMART Group (23.75%), which partner in the Company's management.

METINVEST HOLDING LLC is the management company of Metinvest Group.