7 March 2014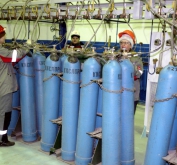 Ilyich Iron and Steel Works of Mariupol of Metinvest Group continues to support medical facilities of Mariupol. In 2013, the total amount of oxygen supplied by the Works to medical facilities in bottles and in a pipeline reached 30 000 m3 for amount more than 500 000 UAH.
The Works also provided the municipal hospital №2 with 225 kg of nitric oxide.
For many years metallurgists are the main suppliers of refined oxygen to municipal hospital № 1 and maternity hospital №1. The Agreement on social partnership concluded between the Works and the municipal council provides that since the last year the list of the plant client includes municipal hospitals № 2,4,8, the perinatal center and the " Mother and Child Health" union.
The products, supplied by the Oxygen Shop of Ilyich Iron and Steel Works is used during surgical procedures and for reanimation of seriously sick patients . The gas is also used in well rooms for newborn children with various pathologies.
"As a man cannot breathe without air so we cannot work without oxygen. We use modern oxygen installations in our newborn rehabilitation department which are the real help in nursing newborn children. Of course, the bottled oxygen is used during cesarean operations. Ilyich Iron and Steel Works permanently provides the perinatal center with its valuable assistance and sufficient amount of bottled oxygen"- said Mr. Konstantin Komlev, the head doctor of the perinatal center of Mariupol.
Oxygen Shop of Ilyich Iron and Steel Works produces high quality oxygen using modern equipment from France. Pure oxygen of the top quality conforms with the government standards and is characterized by high degree of density and complete absence of impurities.
"Long-term cooperation with the municipal medical facilities is the guarantee for stability of their work. Medical workers may be confident that Ilyich Iron and Steel Works will continue to supply oxygen which is so necessary for rehabilitation of patients in the hospitals of Mariupol. Our company pays great attention to social maintenance and we value lives of our people. We are ready to intensify our cooperation with the municipal authorities and together, we will stimulate further development of public health care service. Our workers performed a large amount of repair works in 16 hospitals, polyclinics and maternity hospitals. Our assistance to medical facilities will continue", said Yurij Zinchenko , General Director of Ilyich Iron and Steel Works of Mariupol.
For editors:

PJSC "ILYICH IRON AND STEEL WORKS OF MARIUPOL" is one of the largest integrated enterprises in Ukraine. The enterprise produces pipes and flat rolled products of carbon, low-alloy and alloy steels for different applications: hot-rolled plates and sheets intended for manufacturing of pipes for main pipelines, ships, pressure vessels, bridge structures, other steel structures for critical application; hot-rolled plates, sheets and strips including pickled; cold-rolled, including galvanized bands, sheets and strips, including for cold stamping, flooring and others.

Metinvest is a vertically integrated mining group of companies, operating the assets in each sector of the production cycle beginning with iron ore and coal mining and coke production up to the manufacture of steel semi-products and finished products, pipes and coils as well as production of other products with high value added. The Group consists of mining and steel works situated in Ukraine, Europe, and the USA and has a chain of sales covering the key world markets. The chief stockholders of Metinvest are SKM Group (71,25%) and Smart-Holding (23,75%) which jointly run the Company.

METINVEST HOLDING LLC – the holding company of the Metinvest Group.