25 February 2014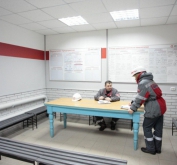 Ilyich Works has invested more than 5 million UAHfor repairing ablutions and improving working conditions.
During 2013 158 objects more than 13 thousand square kilometers in area have been repaired.
Practically in all organization departments active works have been carried out on the realization of the corporate program "Work life". Household unit in the administration building №3 at the sinter plant has been overhauled. The room for holding shift meetings in the administration building №2 has been put in proper trim and supplied with necessary visualization tools. A complex repair of shower rooms, rest rooms and cloak rooms has been made in administrative buildings №1,2 and in the refractories production departments of the converter shop.


The dining rooms have become here more comfortable. After a complete overhaul of the cold rolling shop a sanitary-domestic complex more than 700 square meters in area corresponding to the best world practice has been opened. Sanitary facilities, shower rooms, rooms for shift meetings, laundry rooms, rooms for keeping and giving-out special cloth have been also repaired in other shops.
In 2014 the rebuilding of the objects is running on. From the beginning of the year after the complete overhaul of the sheet-rolling mill 1700 two rooms for shift meetings have been opened, sanitary-domestic rooms in different areas of the department have been renewed. All works have been carried out with the help of modern building materials and energy-saving systems. For providing comfortable working conditions in cold times in sheet-rolling mill 1700 the Works has purchased 40 modern heating bodies.
"We systematically renew the objects in all organizations departments to provide the workers with well-deserved working and living conditions. We place high emphasis on such questions. The comfort and safety improving on working places – are among our main priorities" – notes the general manager of the PJSC "Ilyich Iron and Steel Works" of Mariupol Uriy Zinchenko.
For editors:

PJSC "ILYICH IRON AND STEEL WORKS OF MARIUPOL" is one of the largest integrated enterprises in Ukraine. The enterprise produces pipes and flat rolled products of carbon, low-alloy and alloy steels for different applications: hot-rolled plates and sheets intended for manufacturing of pipes for main pipelines, ships, pressure vessels, bridge structures, other steel structures for critical application; hot-rolled plates, sheets and strips including pickled; cold-rolled, including galvanized bands, sheets and strips, including for cold stamping, flooring and others.

Metinvest is a vertically integrated mining group of companies, operating the assets in each sector of the production cycle beginning with iron ore and coal mining and coke production up to the manufacture of steel semi-products and finished products, pipes and coils as well as production of other products with high value added. The Group consists of mining and steel works situated in Ukraine, Europe, and the USA and has a chain of sales covering the key world markets. The chief stockholders of Metinvest are SKM Group (71,25%) and Smart-Holding (23,75%) which jointly run the Company.

METINVEST HOLDING LLC – the holding company of the Metinvest Group